The Hustler's back and Ray's tipping he'll have his best year yet
The Hustler's finally back - and trainer Ray Green couldn't be happier with him, predicting he's in for his best year on the track.
Green gave Northview Hustler his first hitout in four months at yesterday's Pukekohe workouts and was delighted with his effort for third behind in-form runners Mach Shard and Benson Boys.
Allowed to stroll along at the rear of the five-horse heat by driver Andre Poutama, Northview Hustler pulled out three wide to challenge 300 metres from home and sprinted nicely up the straight.
At the line he was only a neck and two lengths behind the first pair who clocked 3:22 for the 2500 metres, with closing splits of 59 and 27.3.
"Andre clocked him over his last 2400 metres in 3:10 and his last 400 in 26.8 which is good for his first run in a long time.
"He pulled up well and I think this will be his year. The winter racing is coming up and that will really suit him as all the superstars will be out spelling.''
Green says while the Hustler is not beefy, you can no longer see his ribs.
"When he went out you could count each rib, he was just skin and bone.''
Green made the decision to geld Northview Hustler last December after his colty habits started to take too big a toll on his body.
"Normally gelding sets them back a bit, they lose a lot of muscle, but he had no muscle to lose.
"But now I'd say he's never looked better.''
Green believes Northview Hustler will also be more street wise this campaign having rough and tumbled with the cup class pacers and experienced a trip away on his albeit aborted New Zealand Cup campaign.
That will come as terrific news to his enthusiastic bunch of owners who have already enjoyed his eight wins, the best of which was his scalp of Star Galleria in September's Spring Cup.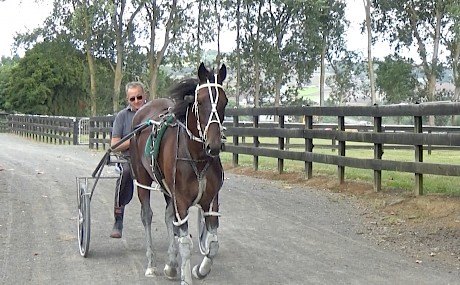 Trainer Ray Green with the improving Just Wing It.Green lined up only one other starter at the workouts yesterday, Just Wing It, in the up to rating 62 heat over 2050 metres, and was very happy with his effort to be nosed out by the talented Baquero.
Just Wing It was parked initially in the heat before Poutama took him to the lead, then trailed Baquero.
When he was pulled out in the run home Just Wing It attacked hard, Poutama thinking he'd got up in a tight finish, one so close that it had commentator Cameron Shaw undecided.
The pair clocked 2:35.6 for the trip, a mile rate of 2:02.1, with closing sectionals of 58.5 and 27.5.
And while driver Maurice McKendry was sitting very quietly on Baquero, it was still a fine trial by Just Wing It for Friday night's mile race night at Alexandra Park.
"He'll race well - he's never gone a bad one since we've had him - but the mile could be tough for him.
"He's still getting in on the corners and they could be his undoing at the speed they'll be going over a mile.''
Green says Just Wing It has done a good job to finish first, second, third and fourth in his only four tries since being sent the horse by owner Merv Butterworth.
"When the horse came to us they were pretty scathing of him, they didn't like him, but he's honest and tries hard and has a few little issues we're trying to isolate.''
Green is hoping the horse will pace more freely on Friday after having a few joints injected.
Our runners this week:
How our trainers rate them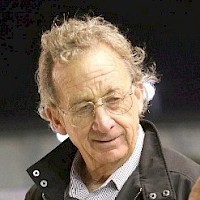 Ray's comments
Thursday night at Cambridge
Race 6: Double Or Nothing
"He's got very good gate speed and from the draw is definitely an each way chance. It's a huge drop in class for him."
Race 8 : Lindi Lincoln
"We found she had a virus last time and treated her. She may need the run but she should get an economical run and will go a good race."
Friday night at Auckland
Race 3: Hampton Banner
"He won well last time but, while he's an improver, he has yet to meet a field of this quality so is just on the watch list."
Race 3: Line Up
"He trialled up very well at the weekend and is in good shape. But he'll have to go back at the start from eight so will need luck."
Race 3: Copy That
"He's at the mercy of the one in front of him. But if Cloud Break leaves fast (as he can), he could get a nice drag along. He was very good at the workouts and I'm very happy with him."
Race 4: The Empress
"I've thrown her in the deep end but she has a bit of gate speed so should be able to stay handy from one. If she can finish in the first four of five I'll be very pleased."
Race 5: Ace Commander
"He never got a crack at them last week - Blair (Orange) had to virtually stand him on his ear in the home straight and said afterwards he thought he could have been right in it. He's been feeling good this week and will go well with the right trip."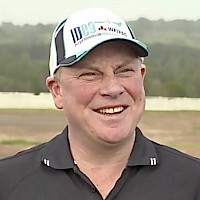 Ants' comments
Saturday night at Cranbourne
Race 7: Make Way
11.37pm NZ time
"It's going to be a hard race for him to win - he's only a four-year-old who's the new kid on the block - and he's never been against these horses before, some of whom are already racing on the Grand Circuit. But I'm hopeful he'll be competitive and, with the right trip, it wouldn't surprise me if he was right there at the finish."