The waiting's over - classy colt ready to Line Up again at Auckland on Friday
Line Up will make his much awaited reappearance at the races on Friday night after outsprinting a smart field at the Pukekohe workouts today.
The classy colt has not raced for seven months, when he made a stunning debut win at Auckland, but trainer Ray Green today gave him the big tick to resume after he sprang out of the trail to take his 2050 metre heat against higher rated rivals.
The margins between Line Up, Edamfast, Park Avenue and Henry Hu were only a long neck, a neck and a long neck, but it was the way Line Up picked up late with very little urging from driver Zachary Butcher that augured well for his immediate future.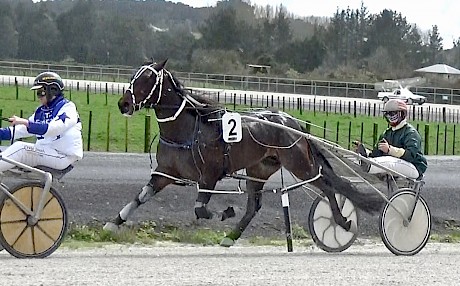 Line Up is coiled ready to strike behind pacemaker Park Avenue.Butcher was a little surprised Line Up didn't blast through as soon as a gap appeared inside pacemaker Park Avenue early in the home stretch, given the crawling early tempo.
But when he pulled the plugs and gave him one little flick with the whip the colt found his A game and darted home to win, Butcher sitting quietly.
The 2050 metres was cut out in 2:39.8, a mile rate of 2:05.4, with the closing 800 in 57.5 and 400 in 27.7.
It was Line Up's fourth workout this time in and his heart rate quickly dropped to 73 afterwards, giving Green plenty of confidence that he is primed for his return.
His first main target is the opening Sires' Stakes heat at Cambridge on October 4.
Stablemate Tommy Lincoln also pleased driver Andre Poutama by finishing a close up seventh in his first workout this prep.
The big American Ideal three-year-old has not raced since June when he scored a hat-trick at Auckland, improving dramatically each time.
Today he was handled quietly by Poutama, one out and three back, and in heavy traffic in the run home was not pulled off the back of Edamfast.
"He pulled hard but felt good and went to the line well," Poutama said.
Early in the heat and The Empress is trailing Bettor My Dreamz near the tail, but she powered home late for second.On a busy morning for Lincoln Farms, it was one of Poutama's earlier drives, The Empress, who staked a good claim for Friday night with a strong run for second in a star-studded heat.
Pitted against Bare Knuckle, The Moonshadow, Blazen River, The Devils Own, Solid Gold and Bettor My Dreamz, The Empress came from second last at the 400 metre mark to get within a length and a half of winner Bare Knuckle.
"She trialled a lot better than last week and steered much better round that last bend," Poutama said.
Butcher didn't ask stablemate Bettor My Dreamz to extend late, running home well with his rivals after being last turning in.
The heat was run at a good clip, the 2500 metres cut out in 3:13.8, a mile rate of 2:04.7, with the final 800 in 57.8 and 400 in 27.9.
Bettor My Dreamz lost some ground with an early gallop, but Butcher was forgiving of the error, saying he was a little squeezed up at the start.
Green says he will fix that issue with the addition of hopple shorteners on Friday night.
Trademark high speed
Speedy three-year-old Copy That wasn't foolproof in his first workout back from a spell but he still showed his trademark high speed late to roar past several rivals in the run home. Copy That was pacing beautifully for Butcher about 500 metres from home when, just as he was about to pull out to challenge, he galloped.
"The mistake came out of nowhere," Butcher said. "But I wouldn't worry about it. He was just cruising and I wonder if he just got a fright when Rhys (Fensom) went on Mighty Looee.
"Usually he goes rough before he breaks but he didn't this time. Rhys was carrying his stick in his left hand and maybe he saw him give his horse a slap.
"He came down in four strides and paced beautifully again and I just sat on him up the straight. He felt super."
The heat was taken out by Mighty Looee in 2:36, a good mile rate of 2:02.5, home in 58.3 and 28.5. There was a nose to the much improved Final Delight and necks to The Blue Beat and Accelere.
Copy That, sold to Australian Merv Butterworth after impressively winning two races in June, is also being aimed at the Cambridge Sires' Stakes heat but will need another workout before he is ready to race.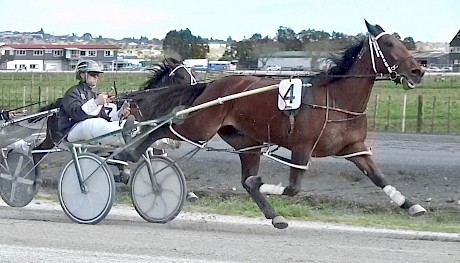 Lindi Lincoln … stretches out for Andre Poutama today.Lindi Lincoln also looked good in her first run back this prep, running third to Tony Herlihy's Awaitinginstructions and Kuyomi in a qualifying and non winners' heat over 2050 metres.
Lindi Lincoln, a Sir Lincoln sister to the good performer Rupert Of Lincoln, moved into the action turning for home but tired late to finish a head and two and a half lengths from the winner.
The closing sectionals were a sedate 59.5 and 30.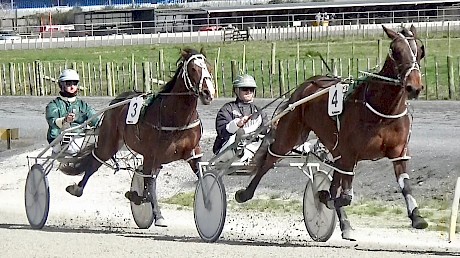 Super Easy, pictured leading Larry Lincoln today, gave driver Andre Poutama a much better feel.Super Easy showed considerable improvement to take out the learners' heat over 2050 metres.
Poutama settled the Art Major-Shy Annie three-year-old third of four, improved to be one-one turning for home and came with a nice sprint to claim Bettor Listen by half a length. While the sectionals were slow - a 2:12.1 mile rate and closing splits of 61.2 and 30 - Green was pleased to just see the gelding pacing evenly at last.
"Before we had to nurse the grandmother out of him just to get him round without breaking but this time in he's been pretty good."
Poutama timed 'Scooter' to run home in 29.3, and said he never took a wrong step and felt like a different horse from his two-year-old days.
Larry Lincoln's report card wasn't so flash, the Sweet Lou three-year-old shying at his first sight of the gate, then galloping out of play 500 metres from home and failing to settle for driver Andrew Drake.
Green will try tightening up the horse's hopples which he said looked too long.
Our runners this week:
How our trainers rate them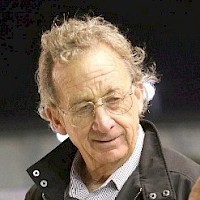 Ray's comments
Friday night at Cambridge
Race 6: Tommy Lincoln
7.51pm
"We're not holding our breath that's for sure. It's hard to predict what sort of trip he'll get from four the second row but he certainly won't be leading like last time and we'll be looking for a lot of luck."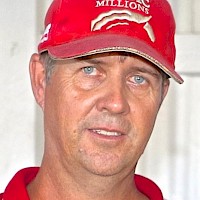 Al's comments
Friday night at Albion Park
Race 1: Double Or Nothing
9.19pm NZ time
"There'll be no lead for him with Nathan Dawson driving but we'll go forward anyway and park out. It's not worth taking a sit with him, he's not the greatest from behind. But he should earn another cheque."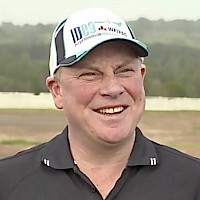 Ants' comments
Saturday night at Menangle
Race 6: Make Way
10.50pm NZ time
"It's going to be very hard for him from seven on the gate. I'll have to drive him cold, keep out of the early battles, and you never know … But whatever happens it's a big thrill for Sonya and the owners of Make Way to even make the field."