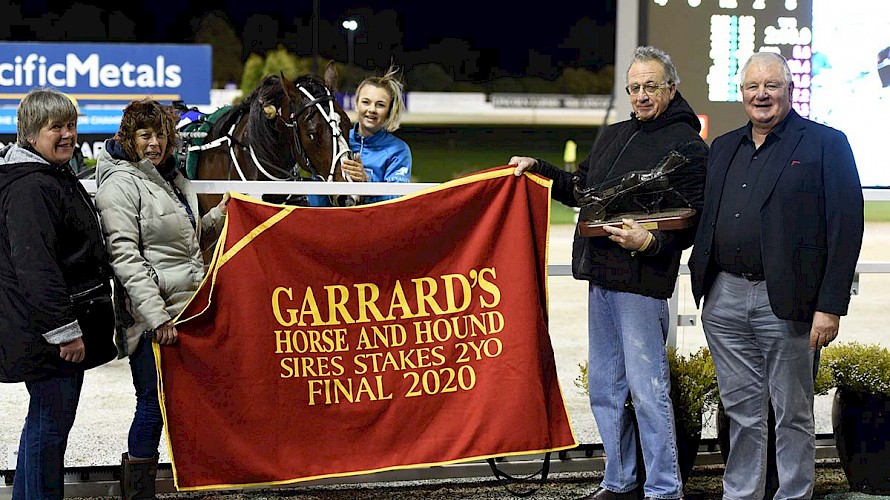 They're not kicking sand in his face any more - how Ray moulded a Sires Stakes champion
The COVID-19 pandemic has caused a lot of misery worldwide but Ray Green is adamant it had a hand in giving him his 10th Group One win as Lincoln Farms' trainer.
The $140,000 Sires' Sakes Final for two-year-olds was originally scheduled for May when Green's American Dealer was a relative weakling who had raced only twice.
But the coronavirus lockdown saw the feature event postponed until Auckland on Friday night by which time the little prize-fighter had a lot more strength and ringcraft.
And when American Dealer trumped the white hot favourite Krug, with a show of strength that belied his stature, it reflected a rare training talent which the horse's new American owners say only the very best possess.
Miami cousins Gordon Banks and Marc Hanover hardly knew of Green when they paid a six figure sum for the son of American Ideal at the end of July.
But now they have nothing but the highest respect for the quietly spoken man from Pukekohe who has moulded their new hero into a serious racehorse.
"In a way COVID helped American Dealer as it gave him a bit more time to develop," says Green.
"If the race had been run four months ago we'd probably have seen a different result."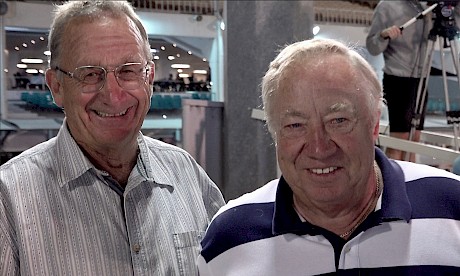 Trainer Ray Green, left, with Lincoln Farms' boss John Street after American Dealer's debut win.American Dealer was never in the sights of the big players at the yearling sales, whose bidding wars are usually concentrated on the colts with the Arnold Schwarzenegger physiques and royal bloodlines.
But Green loved him at first sight - a small but perfectly formed package with only a $23,000 price tag. The fact he was by American Ideal, whom Green had had a lot of success with, and was related to the stable's good performer Make Way, admittedly also helped.
"But conformation is everything for me. I spend a lot of time looking for yearlings and have developed a good system of selecting horses.
"There are a lot I'd like to have bought but it doesn't make sense to spend $200,000 on one individual - you can't get it back.
"It's better to concentrate on the middle of the road ones and maybe buy one high end one.
"There are plenty out there you can buy for under $50,000 who have just as much chance of making it.
"Besotted cost only $3000 as a yearling - though we paid $30,000 for him as a going horse - Copy That was a $7000 weanling and Hard Copy was a $4000 weanling.
"There are bargains galore in the sales and with our track record that's where we should be buying."
Early on, Green says American Dealer was "a little unassuming" and only in his second tier of babies.
"He was always well gaited, he's never ever been a problem, but he took a while to strengthen up - he's only small. But he has a great attitude and a big motor."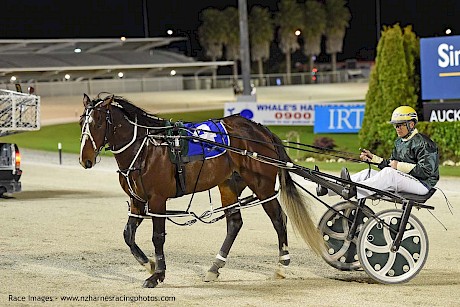 American Dealer … has morphed into a serious racehorse. PHOTO: Megan Liefting/Race Images.Only recently, says Green, has American Dealer morphed into a serious horse.
"But even now anything can beat him on the training track. That's just how he is. On raceday he grows another leg."
American Dealer grew on Green so much he made the rare move of taking a small share in the horse when he was syndicated before his debut in February.
And after he outscrapped the All Stars' It's All About Faith, he labelled the colt a real tradesman, saying: "It's like he's been here before."
But Green didn't rush the colt, tipping him straight out for a spell after he ran a game fourth, sitting parked, in the Young Guns Final a week later.
Since he reappeared in July, he's never been out of the money but in none of those starts was he gassed or overly pressured by driver David Butcher.
American Dealer's owners might give Green all the credit for protecting and moulding the horse but the trainer passes much of that kudos on to the driver.
"The key to developing young horses is having good drivers.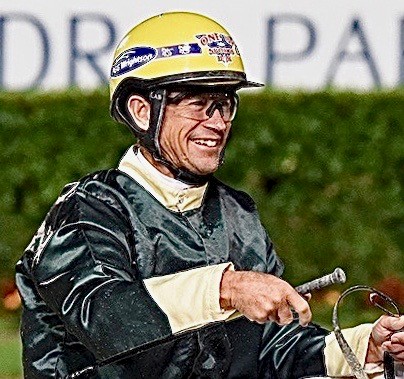 David Butcher … expert at schooling young horses."David Butcher is excellent at schooling them and so is Maurice McKendry.
"You'd be flat finding too many more like that who are mindful of schooling them properly. That's of paramount importance particularly when developing a raw colt into a racehorse.
"Bad drivers can do a lot of harm and that's why I like to use those guys - they're very valuable.
"But while you have to remember they're very young, the race is scheduled at a certain time and you've still got to be ready for it."
Green, who ended the All Stars' five-year domination of the Sires' Stakes Final, says an argument could be made that perhaps Lincoln Farms and its partners should have kept the horse, instead of selling him after his third start.
"But you can't have your cake and eat it too and it's not good business to turn down those big offers.
"They can go either way - they can go on and become a super horse like Copy That but more often than not they turn into give-aways.
"When you sell one mostly you end up with the lion's share and the other person picks up the pieces."
But Green says you have to accept that some will turn out to be really good.
King of Swing, whom Lincoln Farms sold for big money after winning the 2017 Breeders'Crown in Melbourne, has now won $1.4 million and Beaudiene Boaz, sold after winning the Harness Jewels at Cambridge, earned $1.25 million, mostly in Perth.
"But it's hard to win that kind of money here and Lincoln Farms is all about young horses.
"Once they turn three and a half, unless they're a Copy That, we look to find them a home and get on with the next bunch.
"A lot of other trainers like older, more mature horses but if you want a top line horse you've got to start with the babies and develop them yourself.
"We've got 14 two-year-olds to work with now and they all broke in well. Some will show they're not up to it and can't cope and they'll go for a break and the other ones will march on."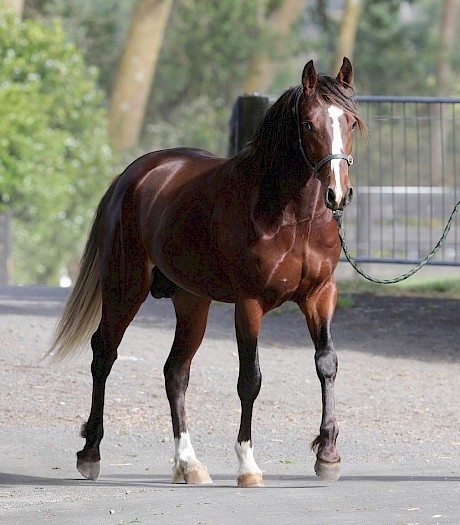 American Dealer … natural colt hormones a help. PHOTO: Trish Dunell.Green believes a lot of people are too quick to geld their young horses.
"Colts who have natural hormones are that much stronger.
"By gelding them you take their power away and they don't arrive for another six to eight months. You've got to have colts if you want them to run early.
"A lot of the top trainers like Mark Purdon keep them as colts. In his heyday, all Geoff Small's good horses were colts."
Green cites the stable's Franco Nandor as a perfect example. While he had to be gelded because he got too rank, it saw him fall away in condition and Green says it has definitely curtailed his early racing.
"I had to geld one of the babies recently because he was causing problems, he'd turn on a sixpence and was getting too dangerous - he didn't care who was in his path.
"I'm hoping his attitude to life changes now.
"Of course you've got to have the facilities to handle colts and at Lincoln Farms we have a perfect set-up."
Our runners this week:
How our trainers rate them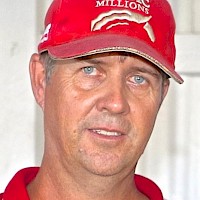 Al's comments
Tuesday at Albion Park
Race 8: Man Of Action
7.38pm NZ time
"He's come through his win last week really well and should run first or second again from another good draw. Soho Tsunami will be a big danger. He'll get a good trip on our back."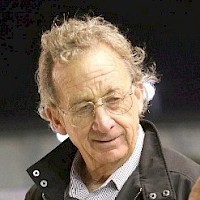 Ray's comments
Friday night at Auckland
Race 1: Apieceoflou
6.19pm
"He's just been incredibly unlucky - he was knocked over at the start last time - but if things go his way we'll see a better animal."
Race 1: Captain Nemo
6.19pm
"If he gets the right trip from five, he'll be right there at the finish. This is little more than a jumped up maiden race."
Race 4: Tommy Lincoln
7.39pm
"He's in a grade now where he can't get away with being driven like a toe rag all the time and from the second row he's obligated to have a much more conservative trip. He'll need a bit of luck but, if he's not put in the race too soon, he shouldn't be too far away."
Race 7: Revitalise
8.59pm
"I've scratched him. He's recovering from a foot abscess."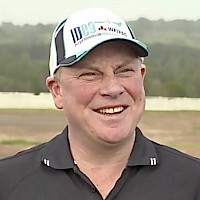 Ants' comments
Friday night at Melton
Race 1: Make Way
7.33pm NZ time
"He pushed them over the line last week and felt really good - he was only jogging at the finish. The (seven) draw has killed our hopes a bit but you never know …"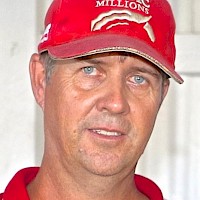 Al's comments
Friday at Albion Park
Race 5: Larry Lincoln
10.18pm NZ time
"We'll drive him quietly on Friday, just hold our position out of the gate, and give him some confidence. It's not a strong field - it's a bit of a drop in class on what he's been racing - and on the times he's been running in training this week he should be winning."
Saturday night at Albion Park
Race 3: Northview Hustler
9.48pm NZ time
"His run last week was exceptional. His chances depend on how the race is run. With the one and three horses having gate speed there could be early fireworks, which would suit him, as we'll probably drive him the same and use his speed late."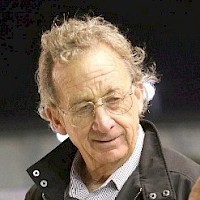 Ray's comments
Sunday at Cambridge
Race 6: Bondi Shake
5.47pm
"He would have won had he not galloped close to home last time. He just turned his head to one side when he got alongside that other horse and might have touched a knee. We'll rectify that by putting two poles on him."
Monday at Ashburton
Race 5: American Dealer
2.27pm
"From the pole, he should get a perfect trip. It's hard to know what the others will do but we get out well enough to be handy. He'll go well but he's already qualified for the final so there's no urgency. It would be nice to win it but we don't have to."
Race 7: Copy That
3.37pm
"He's never gone away badly from a stand - he's always reasonable and safe - so he shouldn't be far off them when they settle. I see him in midfield. I'm not expecting too much from him. So long as he goes well, I'll be happy."