This is it: The ideal chance for On The Razz and Rock Me Easy to show true ability
If ever a race was made to order, it's the one which Lincoln Farms' stablemates On The Razz and Rock Me Easy find themselves in at Kranji on Friday night.
The sixth race, for a stake of S$30,000, is at the indecent hour of 2.20am NZ time but sees the pair drawn the two inside gates over 1600 metres, on the grass, a combination which trainer Stephen Gray has been waiting for.
"Both horses should run really well," says Gray. "They've got good draws and good jockeys and their work has been first class."
While Gray says he suspects Rock Me Easy might be the better horse he says he has yet to see it and he favours On The Razz, to be ridden by Ben Thompson, on Friday night.
"He's a real trier. He's not the prettiest horse to look at with his sway back but he's really thrived recently."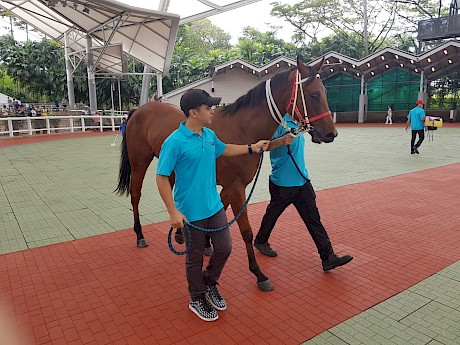 On The Razz … trialled strongly in preparation for Friday night.On The Razz hinted he had his foot on the till when he trialled over 1000 metres on October 1, only just pipped into second.
"He got to the line very strongly in what was a sharp field," says Gray.
The performance only served to confirm no notice should be taken of his previous race on August 25 when he beat only one home, 21 lengths from the winner.
On The Razz lost a shoe during the running and returned to scale lame in the right front foot.
A vet check sub subsequently concluded it was probable the pain the horse suffered in the running would have affected his performance as he bruised his heels.
In a small field on Friday, devoid of form, Gray is expecting On The Razz to race more like he did three starts back when a strong second to stablemate Runminderbinderrun.
"I like the horse. He's gone some good races and shown guts, which I'm not sure if Rock Me Easy has.
"It's time for him to put his hand up and he'll get his chance on Friday when he finally gets over the right distance on the grass."
Gray says the Road To Rock five-year-old simply had no chance the last time he raced, on September 8, when trying the polytrack for the first time from a wide draw.
"He wasn't comfortable all the way - there was a lot of kickback that day - and he was trapped wide from his draw and had to work too hard.
"Thankfully Marc Lerner used his brains and didn't knock him around.
"He'll be much better back on the grass and I'm sure Vlad (Duric) will get the best out of him from the inside gate. But he's booked to go to Malaysia so will need to show us something very soon."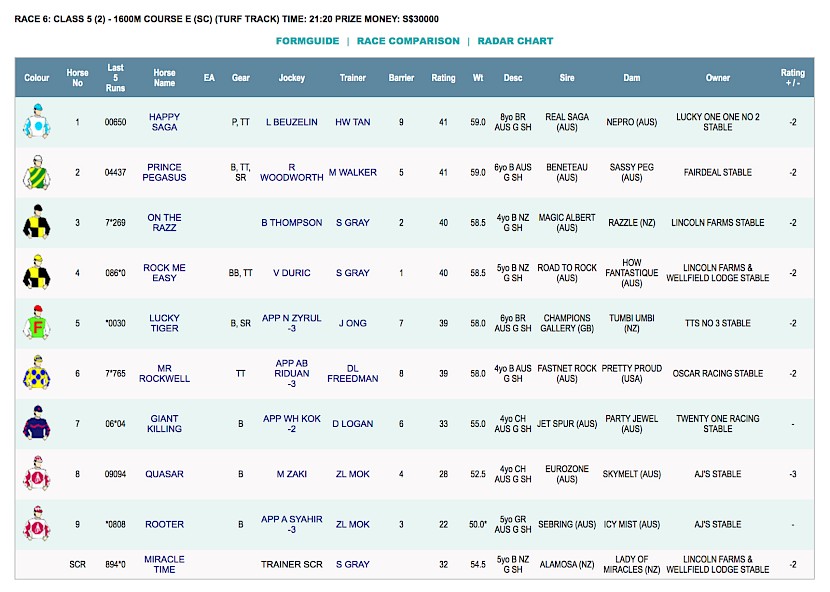 On The Razz and Rock Me Easy race at 2.20am NZ time on Saturday morning at Kranji.