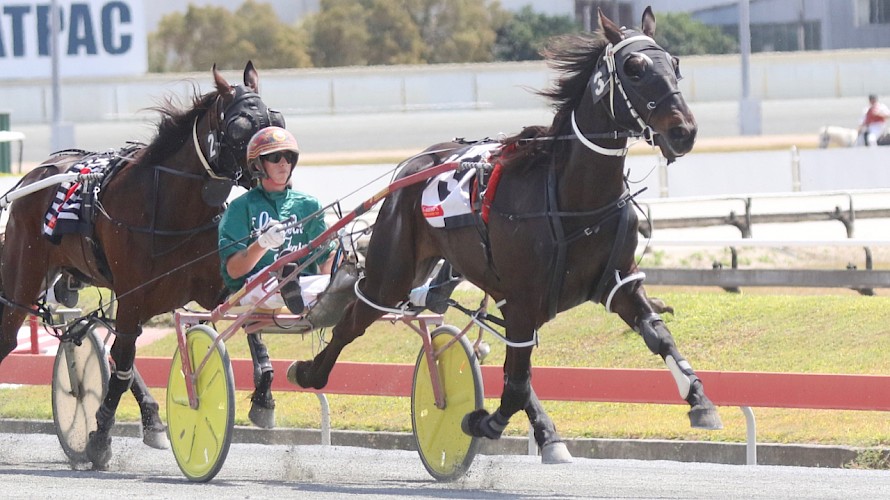 Tiger should win from the outside, Billy can too, but he will have to earn it from the back
Sir Tiger might have drawn the outside of the gate but he should still be too strong for his rivals at Albion Park on Friday night.
That's trainer Al Barnes' simple assessment of the $11,000 Pot Of Gold Final for which Sir Tiger is favourite after his impressive Queensland debut win last week.
"He's improved in leaps and bounds since his last race and should just be too good for them."
Sir Tiger went into last week's heat well underdone after a training hiccup when he kicked out and ended up with a huge haematoma high up inside his leg.

Sir Tiger bolts away from his rivals in last week's heat.And while he easily put away his rivals with a 7 metre win in 1:55.6, Barnes could tell by his post race heart rate of 101 that he was well off being fully fit.
On Friday night he believes the race sets up nicely for Sir Tiger as he can see Narissa McMullen charging out on Betterthanspraying and setting a genuine tempo.
"I don't know what Tiger's gate speed is like and how safe he is but Hayden will find out.
"He can come out, balance, and progress forward after a couple of hundred metres and roll to the chair."
From there, says Barnes, Sir Tiger should have the stamina to beat them.
Sir Tiger will also be better geared up this week with a pole to help keep him straight.
Poor draw for Billy on Thursday
Billy Lincoln, who also scored easily in his first Brisbane race last week, lines up again on Thursday, drawn the inside of the second row in the opening race at 2.50pm.
On paper it looks a poor line-up but Barnes says sometimes that can make it harder to win from the back row, especially over only a mile with a pacemaker like Datsgood drawn to lead and capable of running 1:56.
"Billy will have to go back to last and circle them and you only need one to gallop in your face and you're in trouble.
"It will be a test for him, he'll have to earn it and do a bit of work, and he's still not a racehorse yet. He's very green and has a lot of learning to do so it will be interesting to see what he can do.
"But he would have taken a lot of confidence out of his win."
Billy Lincoln made short work of his rivals last week, pressing forward to lead and cruising home by 9.7 metres, closing in 58.2 and 28.6 to record a mile rate of 1:58.7 for the 2138 metres.
"I don't think the drop back to a mile helps him but ability-wise it's not a great field."

Billy Lincoln races at Albion Park at 2.50pm NZ time on Thursday.

Sir Tiger races at 8.12pm NZ time at Albion Park on Friday night.
Our runners this week
Friday night at Auckland
Copy That, American Dealer, Captain Nemo, Bondi Shake, Apieceoflou, Revitalise, Tommy Lincoln.