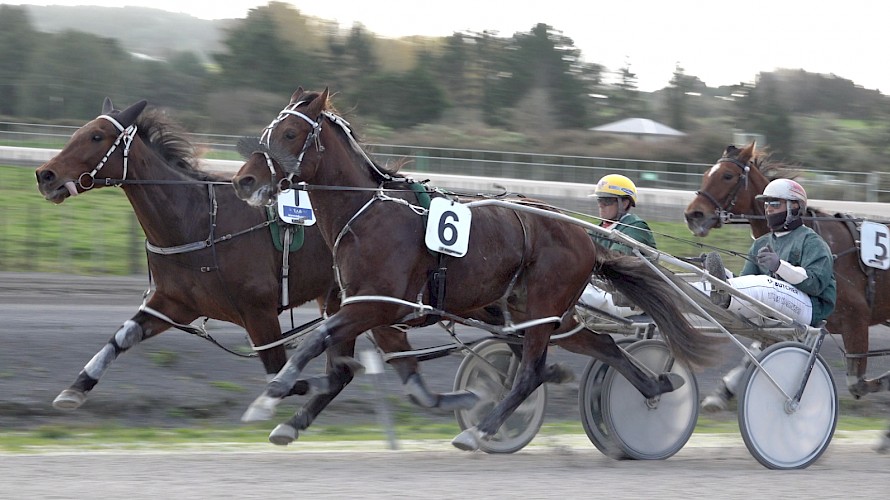 Tommy Lincoln and American Dealer catch the eye again at Pukekohe workouts
Tommy Lincoln and American Dealer looked early winners for Lincoln Farms with smart workout wins at Pukekohe.
For the second week on end Tommy Lincoln pipped stable star Copy That half a head in the faster class 2050 metre heat, leading throughout from the pole and matching his far higher rated rival in the run to the line.
The pair clocked a swift 2:00.5 mile rate, ripping home from the 800 in 57.2 and 400 in a blistering 26.6.
Trainer Ray Green was impressed by both horses, declaring Tommy Lincoln a far stronger horse than last season.
"He's improved immensely and I can't fault what he's doing."
Green says he's sure Copy That would have run past Tommy Lincoln had driver Zachary Butcher slapped him on the bum.
"I don't think he would have cleared off - they were running pretty fast - but Copy That only does what he has to.
"He might need a couple of races when he comes back to get that next level of fitness as the competition isn't strong enough to test him at the trials."
Green and owner Merv Butterworth have scrapped the idea of running in the South East Derby in Queensland next month, with COVID-19 affecting both travel and quarantine.
"His main mission will be cup day in Christchurch in November."
Man Of Action, while only fourth of four in the same heat on Friday, also pleased Green, driver Andre Poutama not hooking out in the run home and finishing only two lengths astern.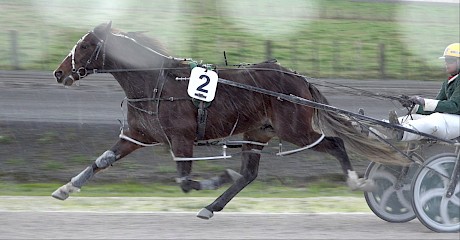 American Dealer and David Butcher look set for a prosperous campaign.American Dealer showed improvement on his run at the workouts a week earlier when he finished too powerfully for Hello It's Me to win the up-to-rating 55 heat.
Third last early, driver David Butcher manoeuvred into the one-one 700 metres from home and showed good toe to reel off sectionals of 58 and 27.7, winning in a mile rate of 2:02.3.
Larry Lincoln, who followed his stablemate over the last lap was also strong on the line, just a head, a length and a quarter and a head back, Poutama again siting quietly.
Lincoln Farms' third winner of the day, Franco Nandor, now part-owned by leading Kiwi golfer Ryan Fox, scored his second workout win on end, leading, then trailing early.
David Butcher popped off the fence to sit outside the pacemaking Ronda for the last lap and was too good, closing in 59 and 27.6 and holding well by a neck in a more sedate 2:05.1 mile rate.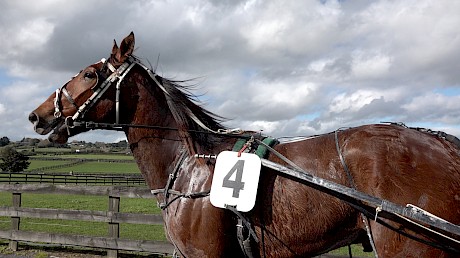 Captain Nemo … another solid run at Friday's workouts.Captain Nemo finished second in his heat for fellow golfer Gareth Paddison, also gifted a share by Lincoln Farms' boss John Street.
He powered home three wide for Butcher and did well to run Tony Herlihy's Prince Of Pleasure to a length and a half after Herlihy stole a marker run through on the inside.
The heat was run in a 2:06.6 mile rate, the leader home in 60 and 27.4.
Apieceoflou passed muster with a solid fourth after starting from the second row and racing one-out and two back for the last lap.
Lincoln Farms also notched seconds with Aurora Stride and Brian Christopher in learners' heats over 2050 metres.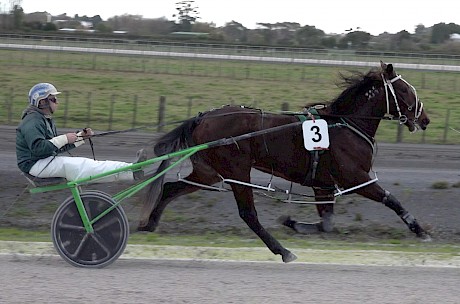 Aurora Stride … showed good gate speed.Auroroa Stride showed tidy gate speed to lead then trail and, in a four-way blanket finish, was just a head behind Brent Mangos' Supasundae, with a nose and neck to fourth-placed stablemate Louie The Punter who made a big run four wide round the final turn.
The leaders cut out the 2050 metres in a 2:07.7 mile rate, home in 61 and 28.6.
Spice It Up tired late from the trail to finish fifth, the only disappointing effort of Lincoln Farms' 12 runners on the day.
Green revealed the speedy fully had tied up again, a complaint which stopped her previous campaign.
"We'll adopt a new plan with her now - we just can't give her a day off."
Brian Christopher (David Butcher) was run down a head by Zarias in his heat with trainer-driver Zachary Butcher's charge doing well after sitting parked for the last 600 metres.
Our runners this week:
How our trainer rates them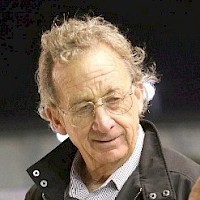 Ray's comments
Wednesday night at Auckland
Race 1: Apieceoflou
6.11pm
"He's really only in the field to get experience. He's not up to the other two at this stage. He's a big, slow maturing horse. He keeps improving without being spectacular but he's a real trier."
Race 1: Captain Nemo
6.11pm
"He's been going well at the workouts without winning. He and Franco Nandor are both nice colts and I expect them to develop into tidy three-year-olds."
Race 1: Franco Nandor
6.11pm
"He's won his last two workouts but has a tricky draw and there are a couple of others in the race who go well. He'll definitely improve with the outing."
Race 4: American Dealer
7.36pm
"I like him as a horse and he's likely to take the most improvement out of his latest trial because of his temperament. He's a laid back individual and looks the best of our lot."
Race 4: Larry Lincoln
7.36pm
"Larry's very fast and he's as forward as the other fella but I don't know how tough he is yet. The draw's a bit tricky."
Race 4: Man Of Action
7.36pm
"He trialled super last Friday and never goes a bad race. We chucked him in the deep end with the bear cats in his last few runs and I think he'll go well in this field. He's on the up and is a much stronger horse now."
Race 7: Copy That
8.56pm
"He's the class horse of the field but he won't be on top of his game yet. I'll be instructing Maurice not to send him on a mission, especially as it's over 2700 metres. He'll still go well but I'm not expecting him to just line up and win. I couldn't label him first-up."