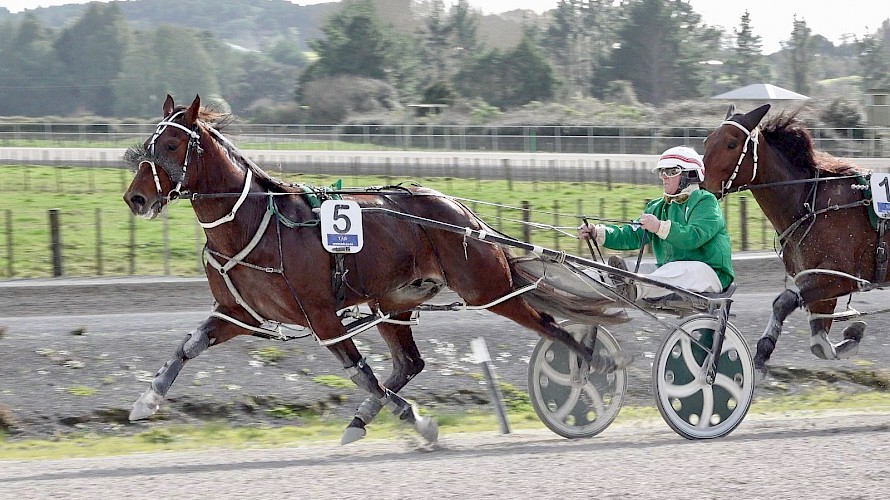 Tommy Lincoln and Man Of Action headline perfect workout day for Lincoln Farms' team
Tommy Lincoln and Man Of Action earned followings for Alexandra Park on Wednesday night with powerful wins at the Pukekohe workouts on Friday.
Lincoln Farms lined up nine horses in four heats and won them all with Tommy Lincoln, Man Of Action, Franco Nandor and Louie The Punter showing their best.
You couldn't help but be impressed with Tommy Lincoln who, for the third time in workouts this prep, pipped star three-year-old Copy That in the rating 53 to 94 heat over 2500 metres.
After spearing to an early lead from the pole, Tommy Lincoln and Zachary Butcher handed up mid-heat to Copy That and Maurice McKendry who looped the field from last.
When presented with a gap on the inner in the run home Tommy Lincoln, a rating 53 horse, accelerated stylishly to put a neck on Copy That, a racing 94 horse, short of the post.
They ran the 2500 metres in 3:13.5, a mile rate of 2:04.6, with the last 800 metres in 57.7 and 400 in 27.1.
Trainer Ray Green described Tommy Lincoln as a much improved pacer this campaign but noted Copy That was a very lazy horse "who only does what he has to.
"That's why we put Maurice on today to give him a good feel for the horse."
The pair's first outing together at the races 10 days ago proved disastrous when Copy That started hitting the sulky wheels and slung his hook, McKendry pulling him up 1200 metres from home.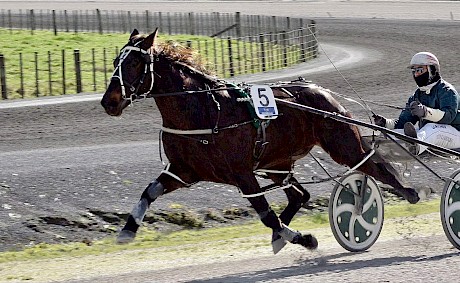 Man Of Action trials superbly for Zachary Butcher.Man Of Action's last start at Auckland was also a frustrating one for his owners when he galloped leading 150 metres from home, seemingly having the race won.
On Friday he never looked like putting a foot wrong after Butcher took an early lead, easily fended off trailer Mimi E Coco when she pulled out of the trail to challenge down the back straight, and went on to score an easy two and a half length win.
Man Of Action ran the 2050 metres in 2:35.1, a mile rate of 2:01.7, ramping it right up over the last half in 56.6 and quarter in 26.8.
Butcher revealed they'd pulled Man Of Action's hopples up one hole for the workout, a tweak which obviously worked.
Stablemate American Dealer, who won the race Man Of Action threw away, cruised home for fourth, five lengths from the winner, without being asked to sprint by driver Andrew Drake.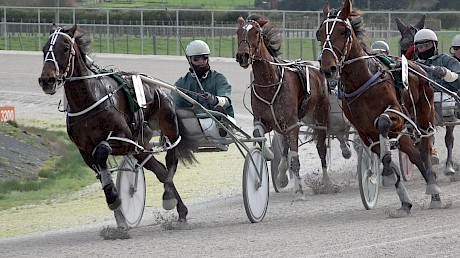 Andrew Drake looks across on Franco Nandor to see Zachary Butcher coming on stablemate Captain Nemo.Franco Nandor led all the way in his heat for Drake, staving off stablemate Captain Nemo who sat last, moved up from the bell and, shaken up by Butcher, came up half a length short.
Franco Nandor ran excellent last sectionals of 56.2 and 26.8, with his mile rate 2:04.1 and the 2050 metre trip in 2:38.1.
The pair, now part-owned by top golfers Ryan Fox and Gareth Paddison, who were gifted shares by Lincoln Farms' boss John Street, will be improved for their fresh-up runs on July 1 when they finished fourth and fifth behind the impressive Prince Of Pleasure.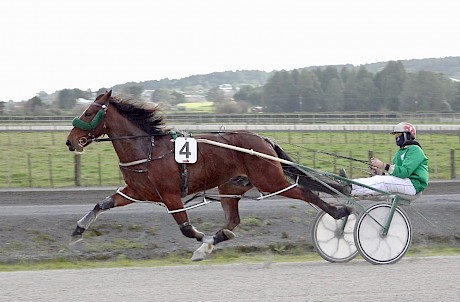 Louie The Punter … all the way for Ben Butcher.Louie The Punter continued his rapid progress of recent weeks with an all-the-way win in the learners' heat over 2050 metres.
Driver Ben Butcher never had to ask the Sweet Lou half brother to Double Or Nothing for his best as he held a half length advantage over Tony Herlihy's Cowboys N Bandits, clocking 2:41, a mile rate of 2:06.4, closing in 59.8 and 28.1
Aurora Stride (Butcher) fought on OK for third, half a length further back, with Brian Christopher fourth (Drake) another length and a quarter away.
Green said two-year-old Louie The Punter had been a bit slow coming to it.
"But he seems to have arrived now and I expect he'll qualify next week and then be off to the races.
"He's improved a lot. Whether he's a Sires' Stakes horse remains to be seen."
Our runners this week:
How our trainers rate them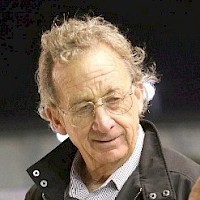 Ray's comments
Thursday night at Auckland
Race 1: Franco Nandor
5.24pm
"From a decent draw this time he'll be one of the hardest to beat because it's not a strong field. He lost a lot of muscle and strength when we gelded him but he should do better from now on."
Race 4: Larry Lincoln
6.49pm
"He'll lead easily and he's good in front so he's a chance to run a hole. But he can't burn at both ends so it depends on how the race is run and in these junior drivers' races they can be quite aggressive."
Race 6: Louie The Punter
7.41pm
"He's a big, dumb sort but he goes well enough. If he could be put on the front end on a nice steady rhythm I think we'd see a different horse. He just gets a bit lost and awkward in the field and the stop-start racing confuses him."
Race 6: Apieceoflou
7.41pm
"Second row draws can be good and if Gopati goes out he'd be right in it. He's come from way back in all his runs and he got held up in the run home last time. He's developing into a tidy horse."
Race 7: Tommy Lincoln
8.06pm
"The wide draw shouldn't worry him - he'll just mooch forward. It's pointless for him to go back, his MO is to get rolling. I thought he was travelling easily at the finish last time."
Race 7: American Dealer
8.06pm
"He's a little tradesman who never goes a bad race. He'll need a bit of luck from the draw but you can be sure he'll be running on strongly at the finish. He was good here last time."
Race 9: Copy That
8.56pm
"This is his most serious test. It usually takes the top age group horses two or three runs to find their feet against the tough older ones but he's exceptional and I expect Maurice will have a dab for the front."
Race 11: Man Of Action
9.46pm
"He'll be at the mercy of the ones he's following out but he's trained super this week and I think he's a definite chance. He's improving all the time."
Race 12: Captain Nemo
10.09pm
"He's a lovely big horse who's also on the up. I think he'll improve on last time here when he got pulling just when he was going to get a good trip and had to come out."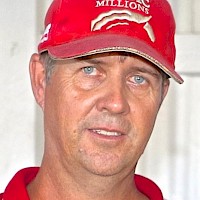 Al's comments
Saturday night at Albion Park
Race 3: Northview Hustler
8.14pm NZ time
"He ran some terrific sectionals last week coming from the back. He's improved through the week and I can't fault him. After his work his heart rate was down to 91, which is a lot better than it's been. He's at his best when it's in the 80s. He's a live chance and I think we'll see a different horse on Saturday night."