Tommy Lincoln in terrific form but he's at the mercy of the pole runner on Saturday night
Drawn the inside of the second row, Tommy Lincoln's chances rest solely with the horse he follows out at Albion Park on Saturday night.
If Jeradas Delight holds the front, Tommy instantly becomes a live winning chance from the trail.
If the mare hands up, and puts Tommy three deep, he's realistically only running for a place.
Trainer-driver Mark Dux says that's the case in a nutshell for Tommy Lincoln who is racing right at the top of his game.
"I'm not sure how much gate speed Jeradas Delight has - she's rarely drawn the front line - but I'm sure they wont want to be too far back with her.
"It will all come down to how quickly she comes out. She's quite a good mare and would be a good one to follow."
In her 24 starts in Queensland Jeradas Delight has racked up seven wins and 11 placings.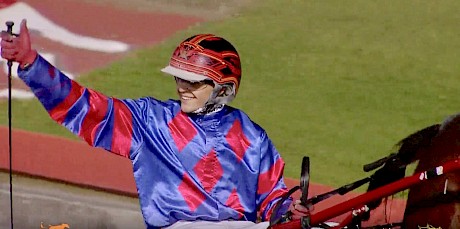 Brendan Barnes celebrates his win behind $151 longshot Jeradas Delight in the Golden Girl at Albion Park in July.Three starts back she sprung the upset of the season at Albion Park for driver Brendan Barnes when she downed top Kiwi mares Spellbound and Amazing Dream in the $100,000 Garrards Golden Girl, rating 1:52.5 for the 1660 metres.
Tommy's best at Albion Park is a front-running 1:52.7 and he has since been just as effective at the longer 2138 metres, the distance of Saturday's opening event.
"The 2138 metres will be no problem so long as he doesn't fire up. It's when he sees open spaces that's his worst time.
"It's a tricky alley but but he's certainly going well enough to be among them.
"He was very good again last week. The leader (Will The Wizard) got away on us again but that was because the others couldn't get us into the race."

Angus Garrard has to go round his tiring rivals on Tommy Lincoln as leader Will The Wizard steals a march.When top junior Angus Garrard moved out from the one-one to lodge his challenge, the leader had set up an unassailable lead.
And it didn't help when he contacted the off-side sulky tyre of Franco Hampton who was giving ground at the 500-metre mark. Tommy Lincoln then hung in near the 400m.
Tommy was still credited with faster closing sectionals than the winner, making up 3.2 metres on Will The Wizard and pacing home in 56.28 and 28.53, with the 1660 metres run in a mile rate of 1:51.7.
The previous week they ran even faster, Tommy finishing a 12.5 metre second to Will The Wizard who was only two tenths of a second outside the 1:50.4 track record jointly held by Im Themightyquinn and Cruz.
Tommy Lincoln just nabbed former Lincoln Farms' flag bearer Northview Hustler in that event, the Hustler going on to run another ripper for Al Barnes last week when best of Turn It Up's rivals after a one-one trip. The Hustler starts alongside Tommy on the second row on Saturday night.
Dux takes the reins on Tommy this week, Garrard committed to driving the Darren Weeks runner Speech Is Silver.

Tommy Lincoln races at 8.10pm NZ time at Albion Park on Saturday night.
Our runners this week
Friday at Albion Park
Captain Nemo.
Friday night at Auckland
Copy That, Pasquale, Louie LeBeau, Bet On The Tiger, Arden's Horizon.
Saturday night at Albion Park
Tommy Lincoln.