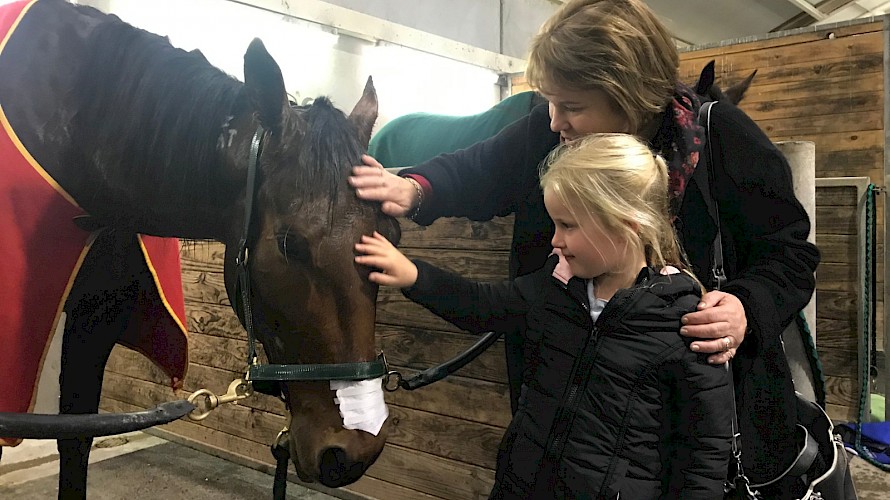 Tommy oh so brave for first-time owners - but the boss keeps family's expectations in check
Lincoln Farms' boss John Street had a word of warning for his new partners in Tommy Lincoln after the big two-year-old made it two on end at Auckland on Friday night.
Street was making his acceptance speech in the hospitality room at Alexandra Park where he was joined by a throng of family members completely new to racing.
"I've got some of my family involved - nieces, nephews - and this is the first horse they've ever raced.
"It's great to get people involved in our partnerships, they get a big thrill out of it and it doesn't cost them an arm and a leg.
"But I had to say to them tonight you don't win every time you go to the races!"
Street's niece Debbie Sparks and her husband Rob were oblivious to the fact very few horses are good enough to sit parked throughout and still win, let alone a two-year-old. But that's exactly what the overgrown baby nicknamed Timber did before running down his better backed stablemate The Empress.
Out in the winners' circle with Sparks were her six-year-old niece Lara, nephew Matt, and other family members including Ian and Kathy Parkinson and their son Daniel, all enjoying the thrill of winning thanks to a visit to Lincoln Farms' Pukekohe stable at Christmas.
"John had a list of four or five horses we could take a share in and Tommy was the only one who came straight up to us so we chose him,'' said Sparks.
"My dad Kevin was feeding him a carrot.''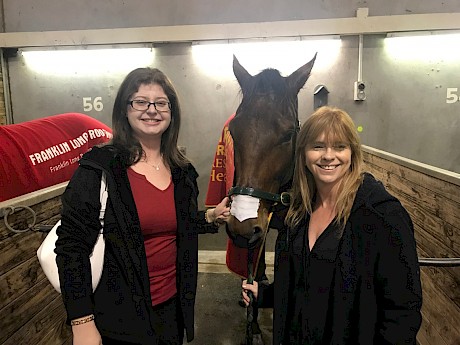 Shannon Flay with her sister Brenda, right, who has taken up her late father's share in Tommy Lincoln.Tommy, very much a gentle giant, had the same effect on the late Arthur Flay when he visited, daughter Shannon saying "it was love at first sight.''
Sadly Flay died before Tommy won his first race last month but Shannon's sister Brenda, also a first-time owner, has since taken up his share.
"This is the first time I've been to the races for five years but I remember dad bringing us here when I was seven or eight,'' Brenda said.
Shannon was again wearing her dad's wedding ring last night for good luck.
But Tommy had it covered. And even though he started over-racing a round from home for driver Andre Poutama after pacemaker The Empress posted a leisurely 32 second quarter, he was still going strongly 400 metres from home.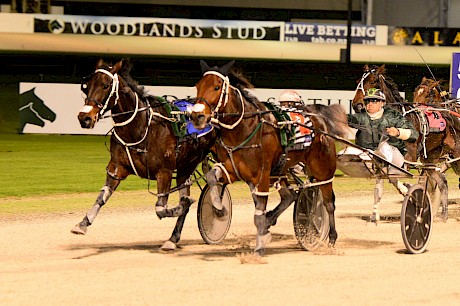 Driver Andre Poutama gets the best out of Tommy Lincoln, outer, as he staves off The Empress. PHOTO: Peter Rubery/Race Images.His big, gangly legs got a bit uncoordinated on the home bend however, once balanced, he forged to the front 250 metres out and looked the winner.
But he still had some work to do as The Empress fought back strongly to close the margin to a head at the line.
Tommy Lincoln clocked a respectable 2:43.2 for the mobile 2200 metres, one tenth of a second faster than two-year-old stablemate Copy That posted in winning later in the night.
It all augurs well for Tommy's future as a three-year-old, everything he's done so far just a bonus for a slow developing horse who trainer Ray Green once described as "big and gormless.''
Judging by the progress his older siblings Lincoln's Girl (6 wins) and Lincoln Road (14 wins) have made for Queensland trainer Al Barnes, he has plenty more in store.
Fellow owners Ray Menzies and Dennis Ebert might have missed the fun last night but you can bet they'll try to be there next time when Tommy shoots for a hat-trick.
Our runners this week
Friday night at Auckland
Copy That, American Dealer, Captain Nemo, Bondi Shake, Apieceoflou, Revitalise, Tommy Lincoln.