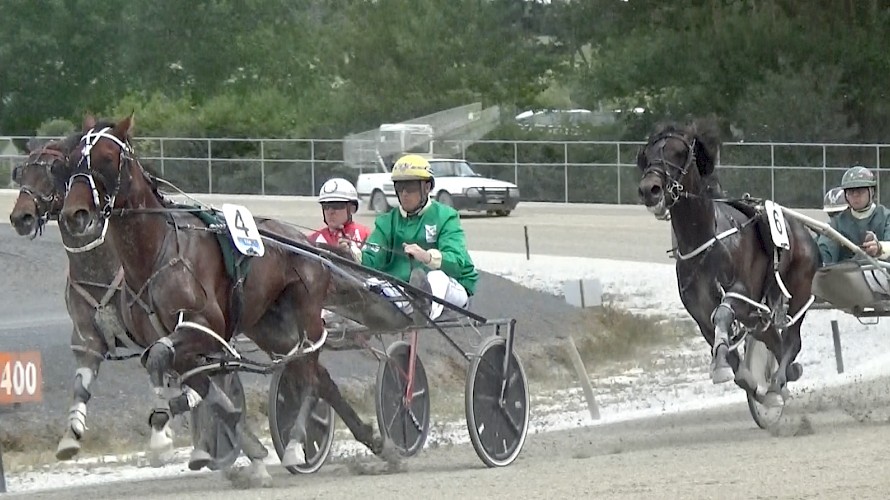 Top colts Copy That and Line Up in super workout preparing for the Alabar Classic
Sires Stakes Final placegetters Copy That and Line Up showed they are right on target for the $50,000 Alabar Classic with excellent workouts at Pukekohe today.
Trainer Ray Green gave the pair a week off after arriving home from cup week in Christchurch but they proved they'd lost none of their fitness with white hot final sectionals.
Driver David Butcher gave Copy That a sweet trail behind pacemaker Parker in their 2050 metre heat before easing out before the home turn to mount his challenge.
And Butcher never put the colt under any pressure in the run home, allowing him to cruise to the line a length behind Robert Dunn's Above N Beyond, home in a very fast 55.7 and 26.4.
Their overall time was 2:34.9, a mile rate of 2:01.6.
Butcher told Green afterwards he didn't pull the plugs on Copy That and had he chased him, he'd have cleared out from his rival.
"He did everything right and did it very easily," Green said.
Line Up returns after a cracking workout today when driver Andre Poutama clocked him to run home his last 800 metres in 54.1.Line Up was just as impressive, coming from second last in the eight-horse field for third, two lengths further astern.
Driver Andre Poutama reported the colt paced very sweetly and he clocked him to run down the back in 27.3 and the run home in 26.8, a white hot 54.1 last 800.
Poutama, also, didn't pull the plugs on Line Up, saying he just sat quietly on the colt, who nosed out Parker with his late flourish.
"That was a nice little hitout for them," Green said. "Now we just have to mark time until Saturday week.
"I think they've already proven they'll be competitive with Mark Purdon's ones. It might all come down to the draws."
The Alabar Classic, a Group II mobile over 2200 metres, is run on Interdominion Grand Final night, December 14.
An eye on the opposition
Green made a point of watching the two-year-old heat today, even though his three Young Guns horses were absent - Platinum Stride, Bondi Shake and Captain Nemo all trialling before the races at Auckland on Tuesday night.
Featuring in the mobile mile were the three horses who could stand in Lincoln Farms' way of an early scalp in the first Young Guns heat on December 13, most notably Cran Dalgety and Nathan Purdon's Krug.
And the Bettor's Delight colt out of 12-race winner Champagne Princess looked just as impressive as he did at the cup trials at Addington, ripping along in front and holding out the All Stars' First Class by a head in 1:59.5, home in 60.4 and 29.9. It's All About Faith was four and a half lengths away third, with 56 lengths to the Steve Telfer-trained Alta Wiseguy.
Green observed that Krug, who boasts an impressive stride, looked slightly more forward than his trio, but pointed out they had yet to be asked the question and would get a solid hitout on Tuesday.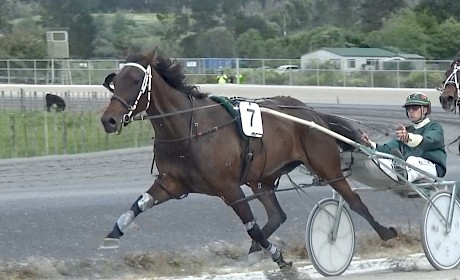 The Empress in full flight today for Andre Poutama.Green will test The Empress against the better fillies and mares on Friday night after her fine workout today.
Having her first run since being found to have a virus, driver Andre Poutama gave the mare her head from the outside of the gate and easily found the front with an impressive turn of foot.
There she stayed throughout and Poutama did not punish her when he felt her condition give out 100 metres from home.
The Empress still finished just half a head, a neck and half a length behind Robert Dunn's Need You Now, and nice types Bad To The Bone and Mighty Looee.
"I just sat on her when she felt the pinch," said Poutama after the 2050 metre heat which was cut out in 2:32.2, a scorching mile rate of 1:59.6. The last 800 metres took 58.4 and 400, 27.4.
"She's still a bit fat," said Green. "That's her first run for a while."
The Empress was expected to win her last start, over 3200 metres at Cambridge, but ran a disappointing fourth after which Green checked her out and her blood showed she was harbouring a virus.
"I treated her and gave her a week off and she's come back really well.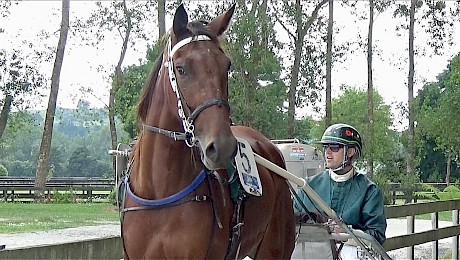 Lindi Lincoln going out for a quiet run at Pukekohe today."I'm going to nominate for the Northern Breeders' Stakes on Friday to see where she sits against the fillies and mares. She'll come up against Belle Of Montana but if she goes well enough we might even press ahead to the Queen Of Hearts."
A $100,000 Group I race, the Queen Of Hearts is also run on Grand Final night, December 14.
Lindi Lincoln, who also failed at Cambridge and was rested with the same virus as The Empress, was given a quiet run round in the up-to-rating 54 heat, where necks separated Down To The Bone, Bella Roza and Veneto.
Our runners this week
Friday night at Auckland
Copy That, American Dealer, Captain Nemo, Bondi Shake, Apieceoflou, Revitalise, Tommy Lincoln.