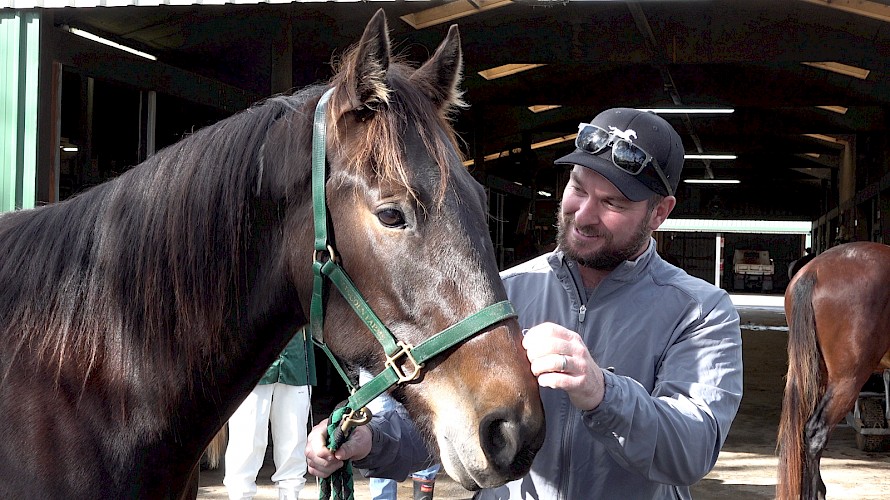 Top golfers Fox and Paddison bag eagles as Street gifts shares in promising young pacers
Franco Nandor's going to have to lift his game if he's to live up to the hopes of his new part-owner, gifted golfer Ryan Fox.
Lincoln Farms' rising three-year-old looked an improver when he took out his heat at the Pukekohe workouts yesterday, driver Zachary Butcher reigning him home by a head in his first serious test since lockdown.
And there, watching the close finish from the unfamiliar position of the gallery, was Fox fresh from his runaway 13 stroke win in the Wairakei Invitational at Taupo last week.
Fox won a paltry $6500 for the win but hit the jackpot through Lincoln Farms' boss John Street's sponsorship of the pro-am.
Street, recently named an honorary member of PGANZ for his generous support over many years, donated a handsome extra prize to the winner and runner-up of the tourney.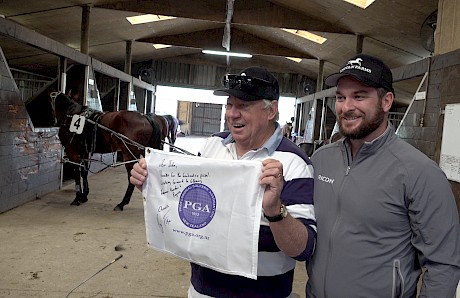 John Street and Ryan Fox at Lincoln Farms' stables yesterday.Fox, who finished his three rounds at Wairakei 24 under par, notching 22 birdies and three eagles, won a 20% share in Franco Nandor, valued at $35,000, plus free training, and runner-up Gareth Paddison was gifted 10% of Captain Nemo, worth $15,000, another of Lincoln Farms' brightest hopes.
The prizes will see Fox and Paddison in line for many thousands of dollars in prize money, with no ongoing costs, and they will share in any sale proceeds down the track.
"Hopefully he'll have a bit of the form that I had at Wairakei," Fox said while getting to know his new horse back at the stables.
"I've always enjoyed a little flutter on the horses now and again and to have a vested interest is awesome."
Fox once had a small share in a galloper with Gerard Peterson, Five Off The Tee winning twice in 2015-16, and he helped name another Hosel Rocket, hosel being the golfing term for shanking a shot.
But Franco Nandor will be his first excursion into harness racing and, while standardbreds are known for being quieter than thoroughbreds, he was noticeably keeping his distance from their back ends round the stable.
The last time Fox came into close contact with a horse was about the age of 12 when he rode one which bolted on him. His mother also had to give up riding after badly breaking her shoulder in a fall.
Fox, nevertheless, sounded keen on having a dual sulky ride one day.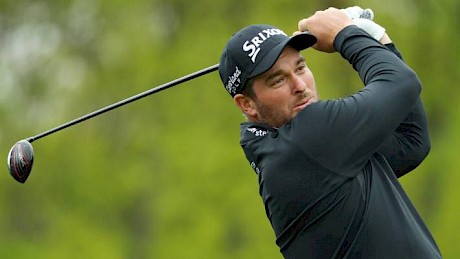 Ryan Fox is New Zealand's second ranked golfer and is 131 on the world ladder.In the meantime, it seems he'll have the chance to see Franco Nandor race at least once next month before he heads back to the UK where it is hoped the European tour will restart with six events, the British Masters scheduled for July 22.
Franco Nandor will have to be good to earn the kind of money Fox is used to playing for. In July, 2018, his biggest payday on the greens was in the Irish Open when he bagged $1.14 million. And that was after narrowly missing a 10 foot birdie putt to claim the title, and ending up losing a playoff.
Street, a keen golfer himself who played at Wairakei, said he took great enjoyment out of watching Fox and other young players competing successfully overseas, and he had no hesitation in offering the prize.
"Of course there are no guarantees with racehorses but this horse is looking promising."
Franco Nandor, who cost $140,000 as a yearling, is by Mach Three out of Nicaea Franco, a daughter of 2007-08 four-year-old mare of the year Nearea Franco, winner of 11 races including a Harness Jewels at Cambridge in 1:54.4.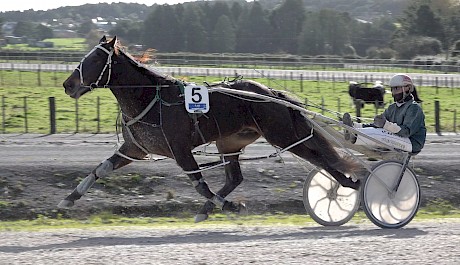 Franco Nandor striding out beautifully for Zachary Butcher in his heat win yesterday.Franco Nandor, who got a nice one-one sit yesterday behind stablemate Bondi Shake for the last lap, unleashed a tidy last quarter of 27.6 for Butcher.
"He felt like a different horse today with the blocks (blinds) off and really ran to the line."
Bondi Shake also fought well for second but driver David Butcher reported he was "a bit hot" and would benefit from a hood.
Captain Nemo, Paddison's prize, was a $110,000 yearling buy and is by the much-touted Captaintreacherous.
Trainer Ray Green was pleased with his first workout back yesterday when he was beaten just a head and half a length, driver David Butcher not knocking him around.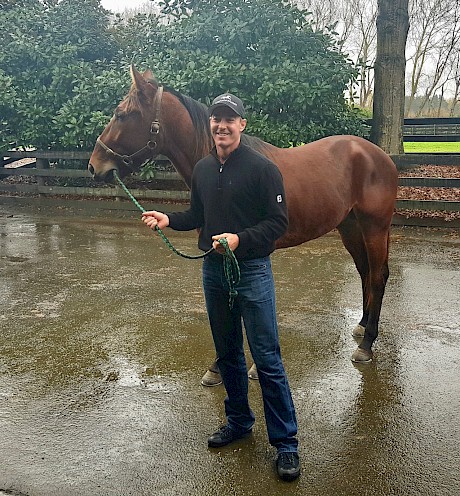 Gareth Paddison witth Captain Nemo at Lincoln Farms.Four deep on the markers, he improved three wide on the top turn and made ground strongly wide out behind Harvey Specter and Stamp Duty.
Green said the colt was much stronger now than when he raced twice earlier in the season and with a few gear tweaks, including tightening up his hopples, he expected the horse to be a rapid improver.
"He's coming up really well. He's a big, powerful colt and this will be his year. I'm high on him and think he will really excel. He's one of our big hopes for the three-year-old races."
Stablemate Apieceoflou, who trailed the field to the 400, finished a close-up sixth in yesterday's heat.
Said Zachary Butcher: "I was cruising round the bend but he ran out of condition halfway down."
Check out how Green's other 10 pacers performed at Friday's Pukekohe workouts here:
https://www.lincolnfarms.co.nz/stories/ray-predicting-theres-plenty-of-fun-ahead-for-lincoln-farms-owners-after-busy-workout-day/
Our runners this week:
How our trainer rates them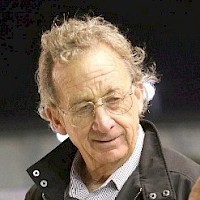 Ray's comments
Wednesday night at Auckland
Race 1: Apieceoflou
6.11pm
"He's really only in the field to get experience. He's not up to the other two at this stage. He's a big, slow maturing horse. He keeps improving without being spectacular but he's a real trier."
Race 1: Captain Nemo
6.11pm
"He's been going well at the workouts without winning. He and Franco Nandor are both nice colts and I expect them to develop into tidy three-year-olds."
Race 1: Franco Nandor
6.11pm
"He's won his last two workouts but has a tricky draw and there are a couple of others in the race who go well. He'll definitely improve with the outing."
Race 4: American Dealer
7.36pm
"I like him as a horse and he's likely to take the most improvement out of his latest trial because of his temperament. He's a laid back individual and looks the best of our lot."
Race 4: Larry Lincoln
7.36pm
"Larry's very fast and he's as forward as the other fella but I don't know how tough he is yet. The draw's a bit tricky."
Race 4: Man Of Action
7.36pm
"He trialled super last Friday and never goes a bad race. We chucked him in the deep end with the bear cats in his last few runs and I think he'll go well in this field. He's on the up and is a much stronger horse now."
Race 7: Copy That
8.56pm
"He's the class horse of the field but he won't be on top of his game yet. I'll be instructing Maurice not to send him on a mission, especially as it's over 2700 metres. He'll still go well but I'm not expecting him to just line up and win. I couldn't label him first-up."