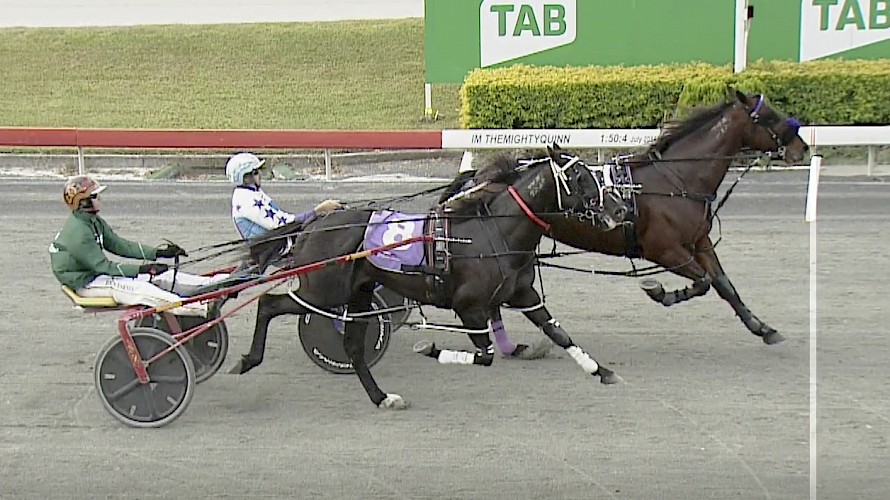 Trojan Banner can keep that picket fence form line going as he tunes up for the derbies
Trojan Banner can maintain his picket fence form line at Albion Park on Saturday night - even though he's raced only once in the last two and a half months.
"He should be too classy for them and it doesn't matter if he sits in the chair, he's pretty fit,'' says Barnes confident that all the work he has done with the little colt at home will stand to him.
Barnes saw what he wanted when Trojan Banner trialled last week, beaten just a metre by fine free-for-all pacer Mattgregor in 1:55.4 after sitting parked for the last half of the heat.
It was a drastic improvement on his fitness level which was almost exposed when he resumed from a near two month break at Redcliffe and only just hung on in a close photo finish as a $1 favourite.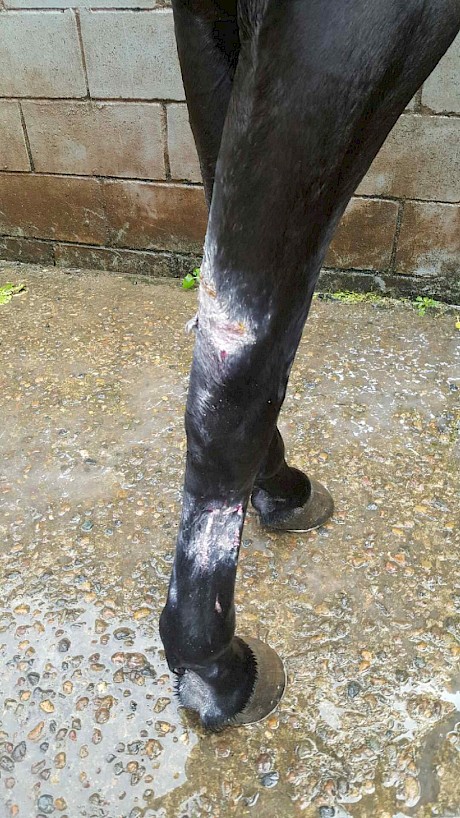 It looks nastier than it actually was and losing skin off his leg in a box accident didn't affect Trojan Banner's fitness.And it showed he had lost little through an easy week after taking skin off himself when playing in his box and missing the Redcliffe Derby.
From the perfect gate three on Saturday night Barnes says Trojan Banner will be right on the speed against opposition he should really be too good for.
"We'll either be in front, outside the leader or in the one-one and from any of those positions he should win.''
Barnes says Trojan Banner, who has won all six of his races since arriving in Brisbane, and Pacific Drums, who will be driven by his other son Brendan, are in a different league from their rivals on Saturday.
"Brendan's is a really nice horse and has a lot of speed out of the gate. If he wants to lead or sit outside the leader he'll do it.''
Knowing that, Barnes says he won't even be trying to cross the pole runner on Lincoln Farms' stablemate Vasari, whom he will drive himself.
"My best chance will be to let Trojan Banner go and sit on his back. Vasari will follow them all day and won't be far away at the finish.''
Girl no match for Princess
Barnes knows Lincoln's Girl is going to need a lot of luck drawn the outside of the second line in the South East Oaks, two along from the All Stars' unbackable favourite Our Princess Tiffany who trialled in a sensational 1:51.4 last Friday.
"Princess Tiffany will simply be too quick so we'll drive her quietly as a sit-sprint horse and earn the best possible cheque we can.
"We'll aim for fifth and hope for better and if she's competitive we'll keep everyone happy. We don't want to run last.''
While Lincoln's Girl beat only one home in the Rising Stars Championship Final when favourite last week, Barnes says you can simply put a line through the run.
After drawing badly, the filly had an impossible task from the back and was caught in the three wide train behind a horse going nowhere, and forced to go four wide to get round it.
"If she'd been improving solo she would have finished a lot closer.
"She's a funny horse. She doesn't like racing at night and she's happy doing her own thing until you put her behind another horse and tell her to wait. Then she's not happy.''
Barnes believes his other filly in the race, Miss Blue Glory, will hold her own as she's fast and tough and will be suited to the likely Oaks tempo.
"I wouldn't be surprised to see her run on into a place.''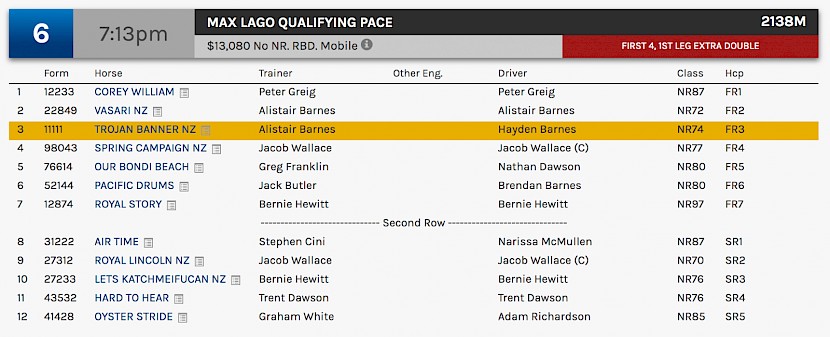 Trojan Banner and Vasari race at 9.13pm NZ time at Albion Park on Saturday night.

Lincoln's Girl races at 10.40pm NZ time at Albion Park on Saturday night.
Our runners this week
Friday night at Auckland
Sunday at Menangle
Make Way.