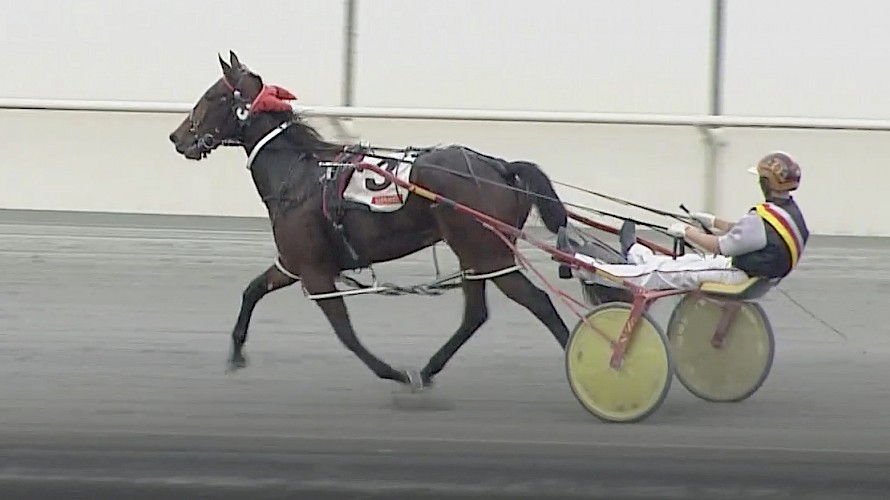 Tuesday looks pretty straightforward for Lincoln's Girl - she should lead and win
Drawn to lead and back to the sprint trip, Lincoln's Girl looks the best of good things at Albion Park on Tuesday.
Lincoln Farms' filly goes round in the eighth race at 6.17pm NZ time, just four days after only battling into fourth at Albion Park.
But there's a huge difference this time - instead of drawing the second line over 2138 metres, which was always going to be a test for her, she draws three on the front over 1660 metres, the distance at which she won two starts back in 1:55.5.
And that, says trainer Al Barnes, should be enough to see the filly score a soft win.
"It looks pretty straightforward for her. She'll roll out and just has to hold out the four horse, Ark Me, who has some speed, and I'm confident she should win. She's got a bit of class on those.''
Neither of the two horses drawn inside Lincoln's Girl have the ability to hold her out - Mister Diamond won his maiden last week in a pedestrian 2:00.1 mile rate, and Dapper Bessie, while a three-race winner, isn't going well enough.
While only fourth last Friday night, Lincoln's Girl didn't go badly - she just pulled too hard over the extra distance.
Barnes: "She was too fierce and just didn't settle and, even when she got a trail up three wide, she was climbing over heels and Hayden had to go (four wide) 550 metres out, which was too early.
"So it's back to the drawing board. We'll just keep racing her so she can learn with more experience.
"But we'll have to put up with a run like that every now and then.''
Hustler to trial
Barnes has also decided to trial Northview Hustler tomorrow, rather than pitch him straight into a tough race on Saturday night.
Barnes wants to see how Lincoln Farms' flagship horse goes, given he has been very strong in his track work since arriving.
"That's not like him apparently. It may be the new surrounds or the different feed, but I'd just like to see how he gets on and gauge his fitness level.
"It will also give him a bit of a look round Albion Park. So long as he trials well enough he'll still race on Saturday night.''
Hustler is being aimed at the two big races at Queensland's winter carnival, the A$50,000 Sunshine Sprint on July 13 and the $A200,000 The Blacks A Fake Championship (2680m) on July 20.

Lincoln's Girl races at 6.17pm NZ time.