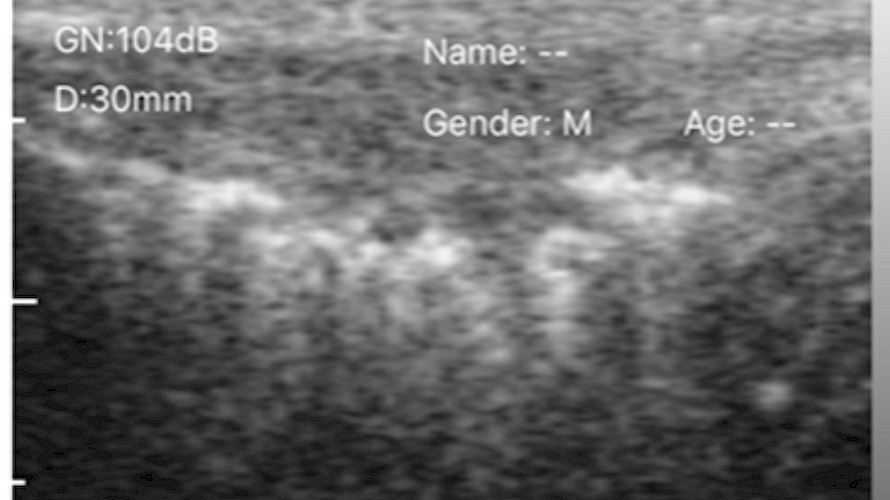 Ultrasound too murky but vets hoping not to have to operate on Cru Bourgeois
Singapore vets suspect Cru Bourgeois has fractured a bone in his head but will wait 48 hours before deciding whether he needs surgery.
Lincoln Farms' promising galloper was fully checked out yesterday after an incident in the starting stalls on Sunday when he reared and whacked his head but was still allowed to run without being vetted.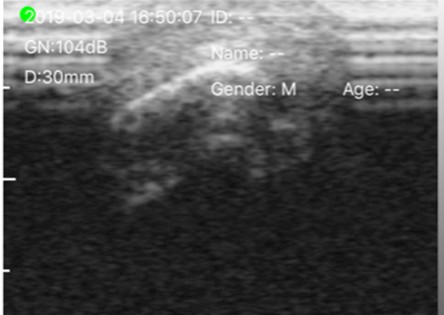 How Cru Bourgeois' undamaged right zygomatic arch looked on ultrasound. Compare it with how his left eye looks in the main image.X-rays of Cru Bourgeois suggest the horse may have a depression fracture of the zygomatic arch, an area just above his left eye.
Swelling and air pockets prevented the orbital area from being seen at all on ultrasound.
But vets have decided to wait in the hope the swelling reduces before committing to surgery to fix the dislocated area and remove any bone fragments.
Most minimally displaced orbital fractures heal without surgery but in more extreme cases fixation with plates is needed.
Trainer Stephen Gray says there's no doubt the horse is uncomfortable.
"We just need to give him a few days to see how it settles down as I'm not keen to do surgery unless we have to.''
Gray says the circumstances around why Cru Bourgeois was not taken out of the gates and checked has caused quite a controversy in Singapore and is now the subject of an internal investigation led by chief steward Terry Bailey.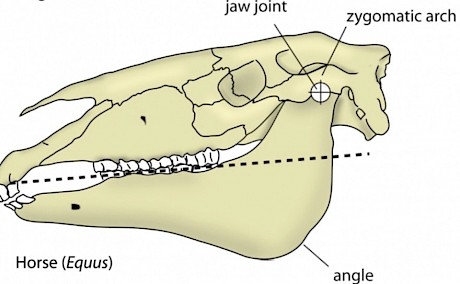 The zygomatic arch, one of the most exposed areas of the head, just above the eye, is prone to injury.While the horse was the author of his own injury, Gray says he is sure he would have been scratched had he been backed out of the gates and examined. Rider Vlad Duric reported seeing blood coming out of his nostril.
It was not fair to expect the horse to race and his scratching would have saved punters a lot of money as he was a hot favourite, says Gray.
"Mistakes happen and this is a rare mistake. I have total respect for the head starter but I feel maybe a certain vet was not focussed to make the right call.
"Hopefully this sort of thing doesn't happen again after the findings of the inquiry.''
Gray says he believes Cru Bourgeois, often a tough nut, tried to anticipate the start, got it wrong, then dived up and struck his head.
"He is getting well looked after and, unless it is worse than we think, he should heal quickly.
"He is a lovely little horse and can gallop, as we have seen, so I hope it comes right quickly.''
Our runners this week:
How our trainer rates them

Shane's comments
Friday night at Kranji
Race 6: Darci's Boy
2am NZ time
"The 1200 metres on the polytrack is short of his best but the way he trialled you have to like him a bit. I'm happy with the draw, it's only a mediocre field, and I expect him to run well.''
Race 8: Silent Prince
3.05am NZ time
"He's in need of the run and from 15 at the gate he'll go back to second or third last. I just want to see him working home nicely.''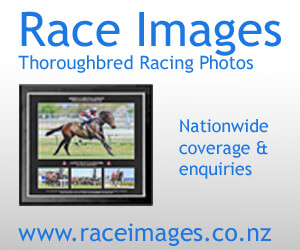 Lincoln light
News in brief
ROCK ME COUGHING: Trainer Stephen Gray didn't pay up for Rock Me Easy to race this weekend as planned after the horse coughed a couple of times following his gallop on Tuesday. He is being treated with antibiotics and should be OK to run in three weeks.
MOONLIGHT WANES: A veterinary exam of Lincoln Moonlight failed to find anything amiss after he ran only sixth, four lengths from the winner on Friday night. The horse blundered on jumping, had to be eased off heels soon after, then was forced to race three wide throughout. Rider Matthew Kellady reported the horse raced keenly and tired noticeably in the run home.
SO LONG SAINT: Saint Lincoln will be sold to Malaysia after bleeding for the second time. The five-year-old won two of his 14 starts in Singapore for earnings of S$45,911.
MORE RAZZ: On The Razz enjoyed a roll in the sand before showing his first bit of sparkle at Kranji, running on well from last at the 300 metres to finish seventh. The 1000 metre trip was far too short for the son of Magic Albert, who is out of a Zabeel mare, but he is being fitted for a 1400 metre event in January.