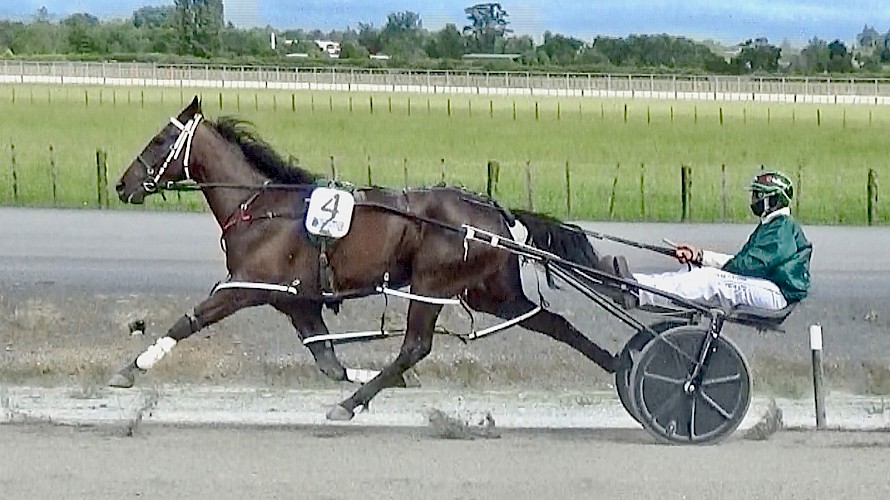 Undercheck should help the real Zealand Star front up at Cambridge
A key gear change and a big drop in class point to Zealand Star turning his form around at Cambridge on Friday night.
Zealand Star disgraced himself at Alexandra Park on New Year's Eve when expected to go a big race, breaking for the second start on end just before the mobile release.
The horse lost his chance to trail the pacemaking winner American Empress when he started pulling in the score-up for Zachary Butcher, and his head got higher and higher, unbalancing him and sending him into a gallop.
Trainer Ray Green will fit an undercheck on Friday to prevent a repeat.
"He apparently had the same problem in the South Island but hopefully the undercheck will sort that out.''
Zealand Star's formline in race six might look a bit sick on paper but he has been going excellent races in much stronger company at Auckland and drops to an extremely winnable rating 54 to 63 event this week.
Butcher will have to find a winning route from the outside of the gate this time, however, after he was placed on the unruly list by the stewards. But he only has to find a smother and get a little luck at the right time to be right in the fight.
Cautious on debut
Green says he's not expecting too much from race one debutant Phil Bromac from his second line draw.
"He's very green and will probably need the experience but he does have some speed and if he got the right trip he could still get the money.''
Phil Bromac will start from two on the second row, following out the perennial placegetter Mr Incredible, the choice of drive by Lincoln Farms' No.1 reinsman Zachary Butcher.
The three-year-old goes into the race well schooled with seven workouts and two trials, having shown a sprinkling of speed along with his greenness.
In his latest appearance at Pukekohe last Saturday he ran a faultless third behind Kolovos, a debut winner for Jeremy Young at Auckland in July.
And Phil Bromac did a lot more work than Kolovos in the running, pulling out from fifth at the 700 metre mark to sit parked, while Kolovos enjoyed the sweet trail behind leader Cheddar's Princess throughout.
Phil Bromac did well for his placing given the closing sectionals were 58.6 and a slick 26.9.
By Washington VC, Phil Bromac is out of the Falcon Seelster mare Amaretto Bromac who did not win in five starts but his great grand dam Ar Miss left the champion racemare Armalight.