Vasari blows them off the racetrack to credit Al and Hayden with a great double in Brisbane
Vasari notched a great double for trainer Al Barnes, his driver son Hayden and Lincoln Farms when he blew his rivals off the racetrack with a 1:52 mile rate win at Albion Park tonight.
But while thrilled with the supersonic win, which saw the stable bookend the Brisbane card after taking the opening race with Lincoln's Girl, Barnes was disappointed that his son was subjected to some snide comments from a few other drivers as he left the track on Vasari after his 17.6 metre all-the-way win.
"As soon as you start winning people get jealous and think you're using something you shouldn't but I can say on my kids' lives we're not. We just put the effort in - we work hard, all day every day.
"Anyone can train good horses and this success is very unusual for us. We're blown away by it to be honest. But Lincoln Farms has given us some quality horses to train and they're doing the job.''
It's the second time Barnes has trained a double for Lincoln Farms since Trojan Banner and Lincoln's Girl first arrived at his Marburg stables in February. And now, with Northview Hustler, who won the Flashing Red on his Queensland debut last week, and Vasari, Barnes' tally of winners for Lincoln Farms is 10.
Barnes says the only real change he's made since Vasari arrived from Sydney in fantastic condition a few weeks ago is to change his shoes, with rubber bonded on to aluminium to reduce the concussion.
"Ray Green gave me the heads up that they used to work on his feet and knees because he pounds the ground so hard.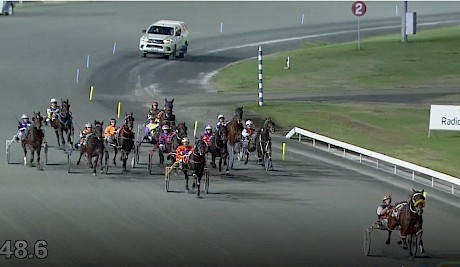 It's Vasari first, the rest nowhere, as he flies to a 1:52 mile rate win at Albion Park."This horse just loves to run. He has a ton of speed and a ton of heart.''
Vasari certainly showed that tonight when Hayden Barnes drove him out to find the lead, going through the first two quarters of the 1660 metre race in 27.7 and 29.6.
And it was then that, in Barnes' words, "he broke their hearts" with a 26.4 third quarter.
"Not many horses can run 26.4 and I reckon if Hayden had given him a flick on the bum he might have gone 25.8.
"Hayden knew he'd run out a strong mile and the pleasing thing was he didn't use everything in the third quarter, he was still able to run home in 28.4. He's tough and he just keeps going. I can see why he holds that Cambridge track record (in March, 2016 Vasari clocked 2:01.99 for 1700 metres, a mark which still stands).''
Barnes says while class records aren't listed in Brisbane he can't recall a c3 horse going as fast as 1:52. By comparison the allcomers' record is held by former champion I'm Themightyquinn at 1:50.4.
Barnes says he will just continue to take Vasari through his grades. "He's too lowly assessed to get into decent races. But there are plenty of options for him as a class four horse.''
He might even look at a 1700 metre race at Redcliffe next Friday when, by using a junior, he can get into a c3 event.
Our runners this week:
How our trainers rate them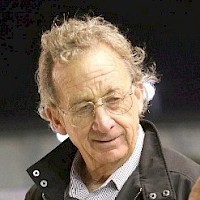 Ray's comments
Friday night at Auckland
Race 1: The Empress
"She's very capable of winning but you couldn't label her. But she'd have to be very unlucky not to get some of it."
Race 3: Lindi Lincoln
"She went quite nicely at the workouts last Saturday but she'll probably need a race to tighten her up. It's not a great field but the draw (outside front row) isn't ideal."
Race 5: Line Up
"I'm confident Line Up can beat Henry Hu who puts in some terrible steps around the corners. He'd have to do plenty wrong to get beaten."
Race 5: Bettor My Dreamz
"He's back in the right grade and will be right there with a trip, but he'll need a perfect trip to have any chance of beating Line Up."
Race 7: Copy That
"He's the best horse in the field without a doubt - it just depends on what passage he gets from that draw, but if he gets a good trip I can't see anything beating him."
Race 9: Double Or Nothing
"I think he'll run just as well as usual. The draw's not great but he doesn't have to lead to go well - he can go back if David wants to."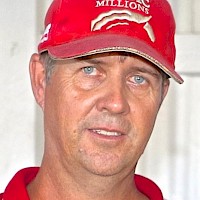 Al's comments
Saturday night at Albion Park
Race 5: Northview Hustler
10.08pm NZ time
"I'll go back and save him for one sprint from the 300. It's hard to predict where he'll finish driving like that but the field is a bit weaker than last time with Watch Pulp Fiction not in and the step-up to 2138 metres will definitely favour us."