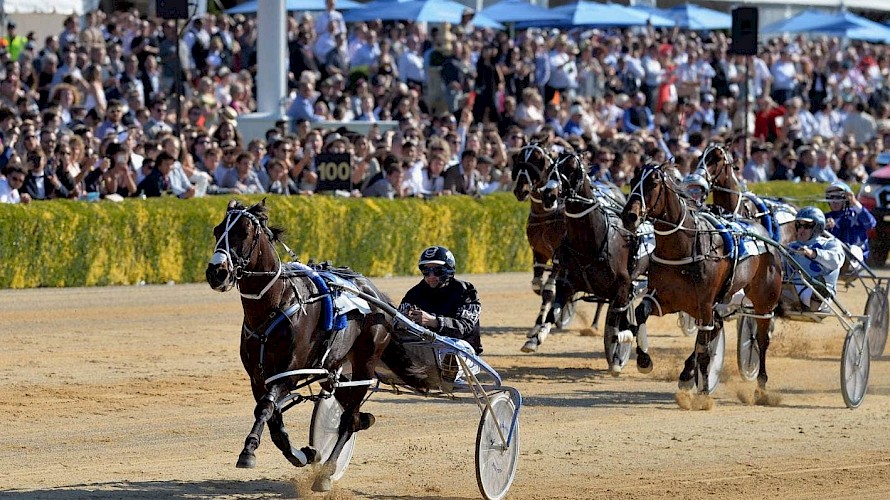 We need our harness heroes more than ever - why try to find ways to get them beaten?
Changing the New Zealand Trotting Cup to a handicap, at a time when harness racing desperately needs to promote its heroes, makes no sense.
Why, asks Addington Racing Industry Manager Darrin Williams, would you want to disadvantage the better horses in the hope a lesser light can win the country's most prestigious race?
"Why are they trying to find ways to get our top horses beaten, or worse, chase them out of the race? says Williams who, along with the NZ Metropolitan Trotting Club, opposes Harness Racing New Zealand's shock decree.
"The best horse should win the New Zealand Cup. Other races can be handicaps but not the one which showcases your industry."
Williams says when the decision was made to turn the race into a free-for-all in 2008 it was in response to "fiddling" with Group One races in Australia.
"We were uncomfortable with them trying to even races out with preferential draws."
Williams say at a time when the industry is losing ground, the top horses should be marketed into superstars, not sacrificed in the hope a few extra dollars can be squeezed in turnover on a race which already sees huge betting.
Since 2008, cup heroes like dual winners Monkey King, Lazarus, and triple winner Terror To Love had become household names.
"We've got a lounge at Addington named after Terror to Love and a hospitality area after Monkey King."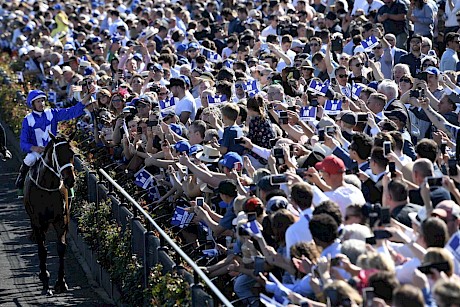 Most of the 37 wins by Australian superstar Winx were in weight-for-age features, not handicaps.In Australia, heroes like Black Caviar and Winx did wonders for racing, in attracting crowds and mainstream media coverage, and weren't forced into conceding big handicaps.
Williams recalls the days when NZ Cup heroes like Blossom Lady captured the hearts of the public - trainer Derek Jones even taking her to a car park in Christchurch so people could pat her.
Frustratingly, just when plans were underway on how to promote the cup's latest star, Lazarus, he was sold, Williams said.
Williams doesn't go along with the argument that the success of the Melbourne Cup in the thoroughbred code proves handicaps are best.
The Cox Plate is a better example and follows the worldwide pattern of horses in the most prestigious races competing on level terms to decide who is best.
The weight-for-age scale is usually used for the best Group races, with horses given set weights depending on their age and sex, the distance and even month of the year when it is held.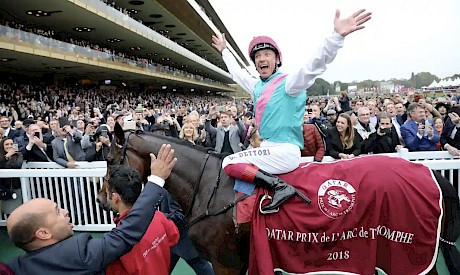 Enable and Frankie Dettori after winning the set weight Prix de l'Arc de Triomphe in Paris in 2018.The Prix de l'Arc de Triomphe (France), Dubai World Cup (Dubai), Epsom Derby (England), Breeders Cup Classic (United States), Tenno Sho (Japan), Queen Elizabeth II Stakes (England) and Irish Champion Stakes (Ireland) are all run at set weights.
Even the English jumping crown, the Cheltenham Gold Cup, is not a handicap. Australia's big slot race success, The Everest, is run at set weights.
By definition, handicaps fail to sort out the very best horses. They were developed in the 18th century as a means of giving horses of lesser ability a theoretically equal chance of winning, giving more owners a chance.
In the days when Williams was growing up, those kind of horses never made it into the New Zealand Trotting Cup.
"But we haven't got an abundance of top horses now like Bonnie's Chance, Armalight and Lord Module."
Williams says while the club is conscious of the importance of gross betting revenue, "an incremental increase (if there even was one) on one race on our biggest day won't save the industry.
"A better approach would be to sort the everyday races that are losing money."
Our runners this week
Thursday night at Cambridge
Whiz On Bye (Scratched).