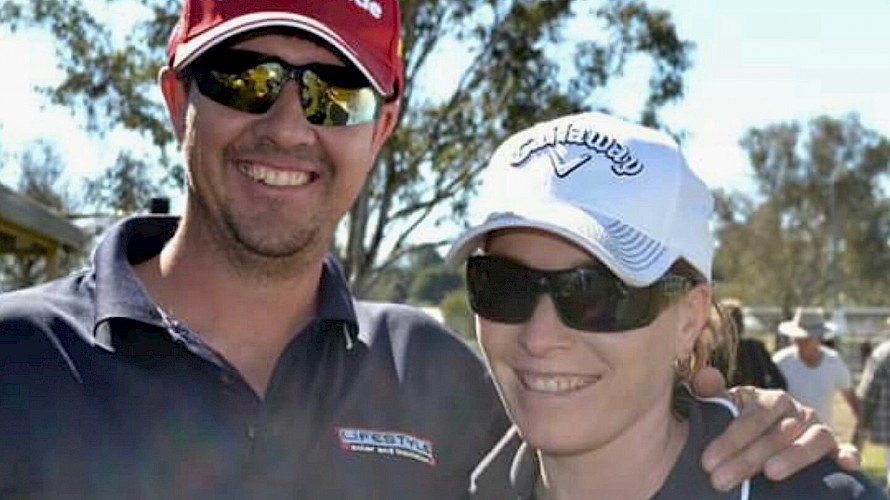 What's this? Now Al's working his magic on 'retired' galloper Lincoln's Command
A month ago he was going to be retired.
On Saturday night he will line up in a race at the Toowoomba night gallops.
And the man who will saddle him up is none other than Al Barnes, who is more used to hitching sulkies up to pacers as Lincoln Farms' harness trainer in Queensland.
That's the unlikely story of Lincoln's Command, who was shaping up as Lincoln Farms' next staying find until he seemingly succumbed to stifle problems in Sydney last month.
When Barnes read on Lincoln Farms' website about the injury and Randwick trainer John Sargent's recommendation that he be retired, he was immediately hooked.
"I thought that's right up my alley. I love fixing problems - it's what I enjoy and what I'm good at - and I thought I might be able to get the horse back for Lincoln Farms."
So on Saturday night when his son Hayden takes Lincoln Farms' pacer Vasari to Albion Park in Brisbane, Barnes will be 125km down the highway in Toowoomba, handing the reins on Lincoln's Command to his mate, little known bush jockey Damion McIntosh, before the third race.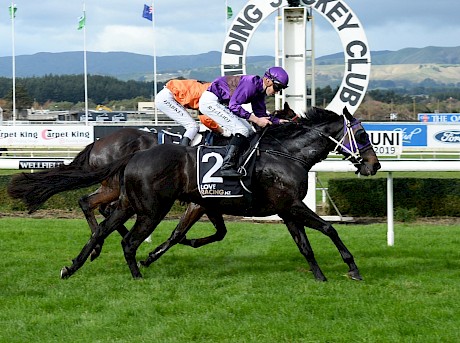 Lincoln's Command winning his last start in New Zealand at Awapuni on May 30. PHOTO: Peter Rubery/Race Images.In the barely three weeks Barnes has had Lincoln's Command at his Marburg stable he's worked his magic on the six-year-old, harness juju which even Sargent acknowledged some trotting trainers possessed.
And while Sydney vets advised the horse's only real hope was to have surgery on his stifle joint, Barnes has simply treated him like others in his stable, two of which he says are still winning with worse stifle injuries.
Rather than an expensive operation to clean up the joint, Barnes used a trick he learned while training a team in Canada - blistering the joint with Palmolive dishwashing liquid to stimulate the flow of blood to the area.
And Lincoln's Command is now just on the same maintenance schedule as some of his pacers, getting injections into the stifle to keep the joint lubricated.
And most important of all, he's trained out of a big yard. "You can't box horses with bad stifles, they have to be moving to keep themselves free. Sydney trainers don't have that opportunity as their horses are in little stables all the time.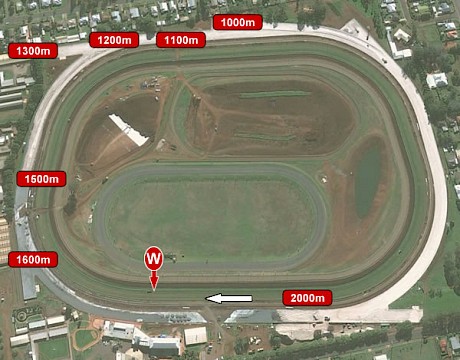 Toowoomba has an uphill rise from the 600 metre mark."He's as bright as a button which is actually what he was like when he first arrived - you wouldn't have known there was anything wrong with him.
"He pulled up sore after that trial he had in Sydney but two days later he was fine.
"And it's the same after he gallops. The next day he's a bit stiff and sore - he obviously has some arthritis - but 24 to 36 hours later he's good again.
"We take him in to Ipswich twice a week and he's had four or five gallops now. We haven't given him a sprint up, we've just been doing long and strong.
"He's in good enough order to be competitive, he's fit and well, but obviously whatever he does on Saturday night he'll improve on."
Gallopers Cassie's passion
As well as giving Barnes a new challenge, which is what he thrives on, he sees Lincoln's Command as the vehicle to renew his partner Cassie's love of racing.
"The gallopers are Cassie's passion. She's the brains with them. She used to drive at the trots and I'm hoping that she'll get her licence to train and take him over. We've already got two gallopers here, one recovering from a fractured fetlock."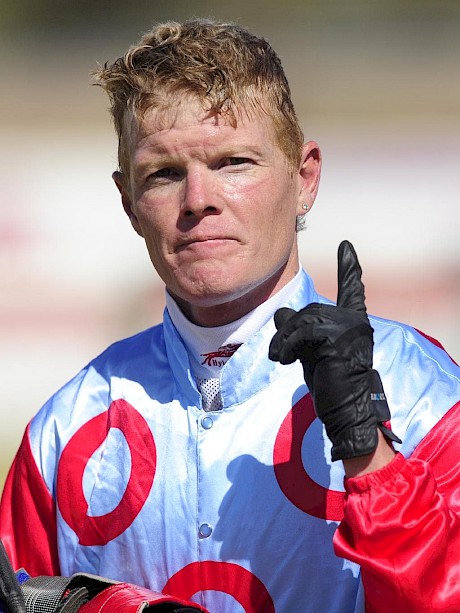 Damion McIntosh has a career record of 33 wins from 436 rides. He has had just 25 rides in the last 12 months for one winner.Barnes is also relishing the chance to give his mate Damion a decent ride.
"He's very experienced but doesn't get many opportunities so he's hungry.
"And he listens. The better jockeys don't respect you and don't listen because they think you're a nobody.
"I know Damion will listen and look after the horse.
"I'll leave it up to him how he rides the horse - he'll just have to see how he jumps. But we've got blinkers on him so hopefully he jumps from gate three and either leads or can sit quiet just in behind the speed."
While Saturday night's race is over 1625 metres, Barnes says at Toowoomba that's more like an 1800 metre race.
"There's a hill from the 600 until they flatten up the straight so it will be a good test for him."
While no form expert on the local gallopers, Barnes says there are bound to be a couple of handy ones, although the quality of horses at Toowoomba won't be overly strong.
"And if he gets to race in town it's really good money - $60,000 to the winner. And they're not strong races like in Sydney and Melbourne.
"I just hope the horse can go well for John and Lynne Street."
Barnes says he's grateful to Lincoln Farms' owners for transforming his life with the pacers they've sent to Queensland - between them Northview Hustler, Trojan Banner, Lincoln's Girl and Vasari have won 17 races in recent months.
Barnes says Vasari will have his work cut out on Saturday night at Albion Park, drawn the second row in a tough field, but he needs only a little luck to earn a cheque.
"He's fit and well and he tries hard."
The race features in-form former Kiwis Tennyson Bromac and Bill Haley.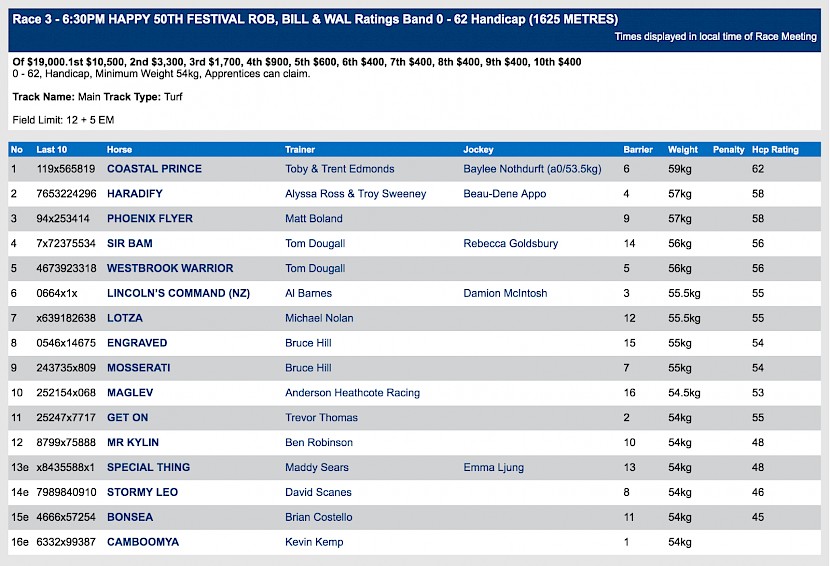 Lincoln's Command races at 8.30pm NZ time at Toowomba on Saturday night.

Vasari races at 11.37pm NZ time at Albion Park on Saturday night.
Our runners this week:
How our trainer rates them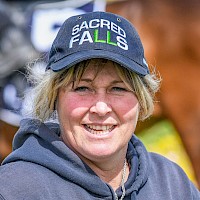 Lisa's comments
Saturday at Trentham
Race 1: Lincoln's Kruz
"He has come through his unlucky Awapuni run well and I am very happy with him heading into Saturday. We could have waited for Wednesday at Hastings where there's a maiden 3yo 1400m but given there are only two winners in this race, and it's worth $30K, it seemed a better option. If he can get some luck in the running this time he can be right in the finish."
Race 2: Lincoln Raider
"He lightened off after the trip south but has quickly put the weight back on and I am happy with him. This is a drop in class from his last run at Riccarton but there are some handy types in the field in Miss Labasa, Times Ticking and Savette. His work has been good and with Kozzi Asano's 2kg claim bringing his weight down to 58.5kg I expect him to be very competitive."
Race 2: Lincoln Hills
"He ran a great race last time after being caught wide at Awapuni and has come through it well. He again has an awkward draw to overcome but there doesn't appear to be an abundance of pace except for Miss Labasa so we will be positive on him. If he can run up to his best form, he is capable of being right in the finish."
Race 3: Kamanda Lincoln
"Sam Collett felt he needed the run at Otaki last start. The new bit definitely helped him settle and he has a lovely draw again to get a nice run. I haven't done a lot with him since he raced but I am very happy with him. Kozzi Asano will claim 2kg, down to 53.5kg."
Race 3: Johnny Lincoln
"He gets in at a nice weight and is thriving. There was a lot of speed in the race at Awapuni which allowed him to finish well but there is no real natural front-runner in here so we may need to make sure he is put into the race. I am expecting another top run from him."
Race 9: Platinum Road
"It's a special condition maiden but there are only three winners in it so it's more like a maiden for him. He ran a top race at Awapuni last time and will be better for that experience over 1600 metres. He has drawn well in barrier three and should again be able to get a lovely run just in behind the speed. He keeps improving and I expect him to hit the line really well again on this big, roomy track. Leith Innes will ride."
Sunday at Waipukurau
Race 1: Ajay Lincoln
"He was beaten by the muddling pace and on-speed bias at New Plymouth last time. Robbie (Hannam) has always been adamant he will get up over ground and he gets his chance here. We will be positive from the gates and get him into the race to give him every chance to step up and show something."
Race 2: Benny Lincoln
"Finally he's got a nice draw. He has kept improving with the good tracks and, while this may be a touch short of his best distance, as long as he is finding the line I will be happy. He has a great attitude - he wants to be a racehorse - but he has just taken a while to mature."
Race 4: Lincoln Hanover
"From a great one draw he should be able to get a lovely run in behind the speed. Robbie thinks he will get up over more ground but I have chosen to give him one more start over 1200 metres first. He is certainly capable of taking out this race."
Race 5: Lincoln's Gal
"She has a nice draw (four) to use and hopefully Robbie can end up in the one-one on her. She will strip far fitter on Sunday. I toyed with stepping her up over more ground but, given she blew out fresh-up, I felt another 1200 metre race was better for her. She placed in her only previous run at Waipukurau and I am expecting a far better effort this time."