Wide draw against Frankie but Ray and Zac continue to be impressed by his improvement
Frankie Major is set no easy task from seven on the gate on mile night at Alexandra Park on Friday but both trainer Ray Green and driver Zachary Butcher continue to be impressed by his progression.
While Frankie Major looks the best of the trio which Green lines up in the eighth race, the three-year-old having sharper speed than Lincoln River and My Copy, it's never easy to get over the top of horses who lead or trail on the marker pegs over the short dash.
But Frankie will enjoy a significant drop in class - this week's race being for rating 47 to 58 horses, compared with last week's rating 56 to 73 event.
Green was super impressed by the way Frankie handled himself in his first try in the higher grade, running third despite bobbling away at the start.
Having his first try behind the tapes, Frankie paced away before galloping for several strides, losing no effective position, still able to secure a perfect trail behind Magic Four.
And he really knuckled down in the run home, challenging hard and beaten only three-quarters of a length by Magic Four and a neck by stablemate Simply Sam. He paced a very fast 2:41.7 for the 2200 metre stand, putting 10 lengths on fourth-placed Fernleigh Cash despite quite a heavy surface on the track.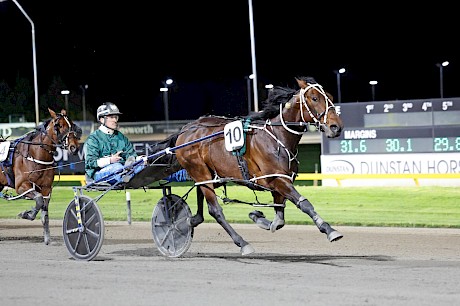 Zachary Butcher, pictured in a recent cakewalk win behind Frankie Major, has been impressed by his continual improvement. PHOTO: Ange Bridson."I thought it was a big run from him in his first step into that grade," Green said. "I thought he handled it well and Zac was quite impressed too.
"That transition to the higher grade is quite a big jump and not many can take it in their stride like Copy That did. They need a few runs.
"But he's getting a little bit better each time he goes out there."
Green said he'd employ hopple shorteners the next time Frankie races from a stand to help him early but on Friday, from the mobile, he'll need to rely on luck in the running and a good steer from Butcher.
"You couldn't label him on Friday but I expect him to continue to go well. Frankie has a bit more speed than the other two but they're all safe horses who are in with a chance."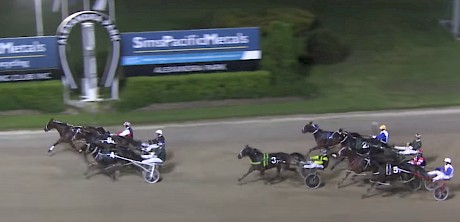 Lincoln River's flashing late run carries him to a neck and head of Mhai Surfer Girl and Jethro Bodine.Lincoln River, drawn five, proved a semi-surprise packet last week, finding a flashing late sprint despite having pulled fiercely three deep on the markers in the running.
Lincoln River came so fast, once angled into the clear 150 metres from home, he ran Mhai Surfer Girl and Jethro Bodine to a neck and head, and would have beaten them in another few strides.
Green doesn't expect the horse to over-race again on Friday.
"He got fired right up after Nathan (Delany) left with him then tried to get him back. They burned hard but he still got home super good.
"He's a tough little horse, a real cage fighter, but he too is going to need a bit of luck."
My Copy gets the best draw in three but doesn't have the gate speed to really capitalise on it.
From two last week he ended up parked for the first lap and, despite being held up a little, was still whacking away at the finish, Green said.
"I thought he went quite well. Not many can cop being hung out like that. He's racing well and I can see him in the money again in his next two or three starts.
"But none of my three stands out on Friday - I can't say any of them will lead. It's hard to make plans in these races (over a mile)."
Sam needs luck
How Simply Sam performs in the main pace, two races earlier, will come down to luck too, Green said.
From seven on the arm, there was no chance he would be rushed out.
"Our experience with him, when we have tried to lead, is it's been counter productive and he's come home on his knees. Like 90% of them you can't burn the candle at both ends.
"He needs a trip but there are a few in there who are the same.
"I'm not worried whether he's good enough - there's nothing any better than him in the field - he's plenty good enough to beat them - it will just come down to luck in the running."
Green said to disregard the HRNZ comments writer who claimed Simply Sam's mile record wasn't flattering. He did not believe the shorter trip held any fears for the horse.
While he has won only one race over a mile, his last three attempts have been in infinitely stronger fields - behind Hooray Henry and Copy That at Auckland, Self Assured in a 1:52 Waikato Flying Mile and Copy That in a 1:52.3 mile at Auckland.
"He won't disgrace us."
Our runners this week
Friday night at Auckland
Saturday night at Albion Park
Tommy Lincoln, Argyle.