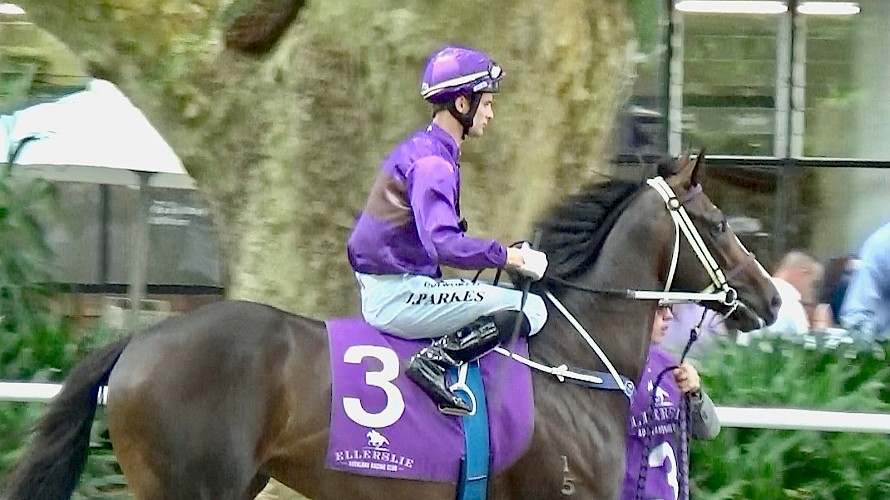 Wide draw makes it tricky for blinkered Lincoln Falls in Saturday's Waikato Guineas
Lincoln Falls and Lincoln Sky couldn't be two more different gallopers but they give Lincoln Farms a solid two-pronged attack on Saturday's $100,000 Waikato Guineas at Te Rapa.
* In the blue corner, Lincoln Falls is the classy headline grabber, brilliant and flashy.
* In the red corner Lincoln Sky is the quiet achiever, just going about his work with no fuss.
And with the quality of the field down on expectations - many obviously waiting for next week's Avondale Guineas - trainer Lisa Latta is hoping to see both horses in the finish.
Lincoln Falls is obviously going to attract the most support after his excellent fifth in the Group I Levin Classic (1600m) at Trentham last time. Despite coming very wide turning for home, he reeled off a sizzling last 600 metres in 33.07, just two hundredths of a second slower than winner Madison County, who enjoyed a run through the field.
Chopped out of it a couple of strides from home Lincoln Falls finished just half a length, a dead-heat, a long neck and half a length away.
The report from rider Johnathan Parkes afterwards highlighted the fact that the colt appeared to look around when he heard the whips cracking and he recommended Latta try him in blinkers.
Gear changes for Saturday had to be declared before the barrier draws came out and Latta admits had she known Lincoln Falls would draw two from the outside, she might have resisted the change.
Lincoln Falls now risked not getting the full benefit of the blinkers and possibly being caught out wide in the running.
"But if we're going to use blinkers for the derby we needed to do it here, because this is his last run, and we need to know if they're going to make him too keen.''
Knowing the way Lincoln Falls reacts to the blinkers in a race is even more important given he is a horse with a wicked turn of foot and he doesn't need to be travelling too fiercely over a middle distance.
"Some horses can also be slow out first time in blinkers. We'll learn a lot about him on Saturday.''
Latta will delay devising race tactics until the pattern of racing becomes apparent on the day, Te Rapa a track that can harbour a strong bias to leaders.
She says she is not concerned about the horse tackling 2000 metres for the first time and is very happy with how he has been working at home.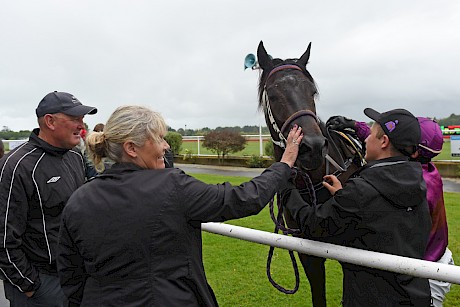 Trainer Lisa Latta gives Lincoln Sky a pat after his win at Otaki in December. PHOTO: Peter Rubery/Race ImagesLatta says there are plenty of positives about Lincoln Sky to suggest he won't be disgraced in the Group II race.
"He's just so genuine. He races handy and he doesn't pull which will be a big help over 2000 metres.
"This will be the first time he's had a senior rider on him too in Jonathan Riddell.''
Latta says Lincoln Sky has been running good races against older opposition and should get a cosy run from a good draw.
At his last start the Savabeel gelding was just pipped at Trentham by Pep Torque who went on to win his next start in rating 72 company.
"I am looking forward to seeing how he performs. I'd be rapt if he could run in the first four.''
Of the main dangers on Saturday the improver could be Ocean Park colt Arrogant who finished one place behind Lincoln Falls in the Levin Classic.
He was held up passing the 400 metre mark and had trouble finding clear running until 100 metres out, probably explaining why he had to be treated for a leg wound afterwards.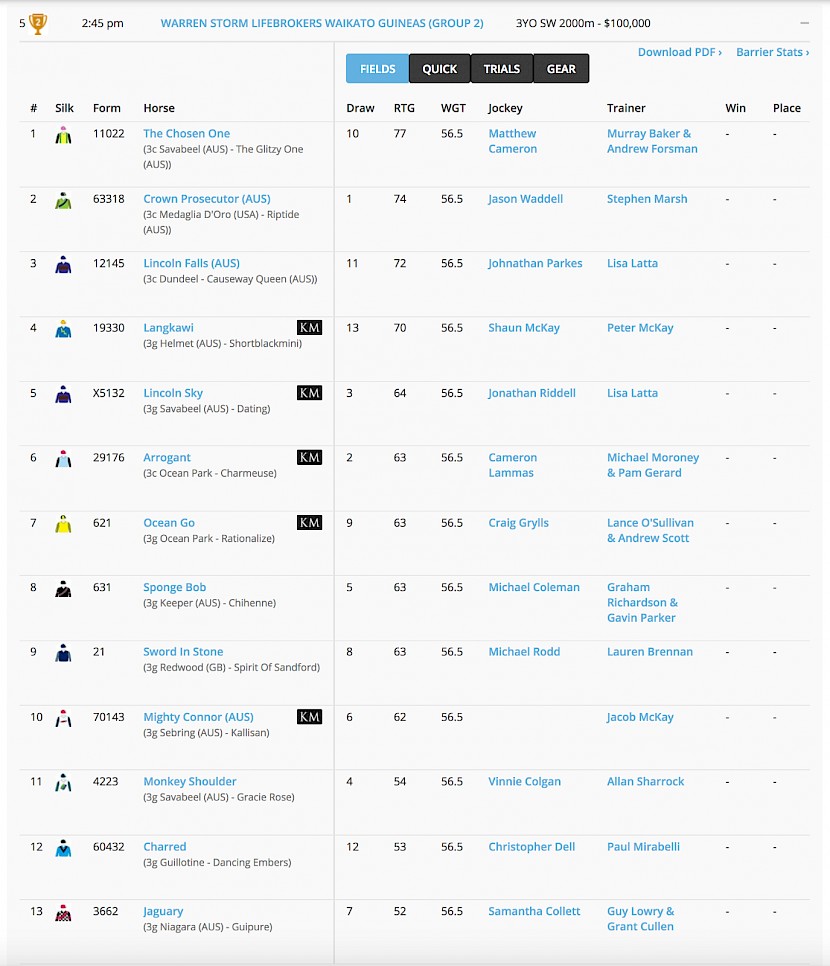 Lincoln light
News in brief
GREEN FIBRILLATES: Lincoln Green had an atrial fibrillation at Otaki on Thursday and will need a vet clearance before racing again. The horse raced keenly early but gave ground quickly near the 600 metre mark and rider Robbie Hannam did not persevere with him in the run home when he suspected there was something amiss.