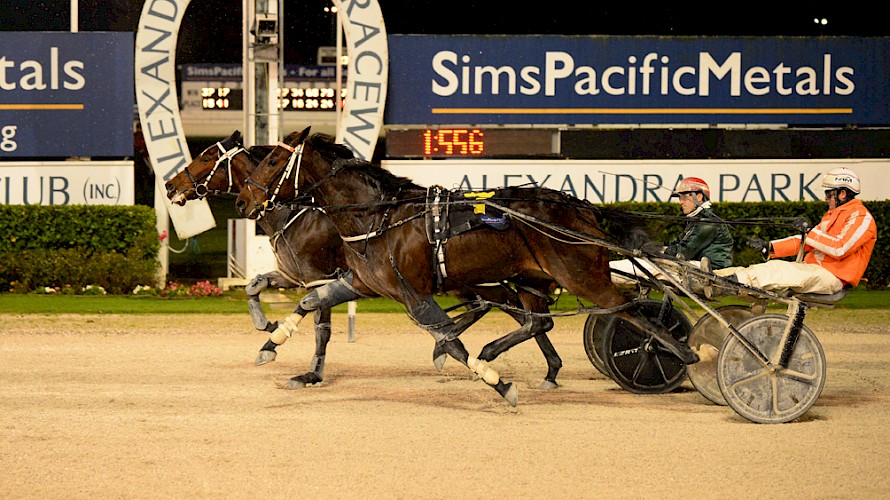 Will Tommy Lincoln be lost to Oz like so many before him, crucified in the ratings?
You'd think everyone would be celebrating Tommy Lincoln winning three races on end.
There were certainly plenty of hugs and high fives shared by all the partners who race the horse with Lincoln Farms owners John and Lynne Street after the two-year-old upset again at Auckland on Friday night.
But today reality set in for trainer Ray Green with a R64 rating going up beside Tommy Lincoln's name, kindling fears the unexpected quick success will soon see him crucified by the handicapping system.
"He's going to be racing tough, intermediate horses now and that's unfair as he's just a baby and it's not as if he's gone out and smashed them every time.''
Green says he's basically forced into resting the horse now and concentrating on the Sires' Stakes series for three-year-olds later in the year, the heats of which start in October.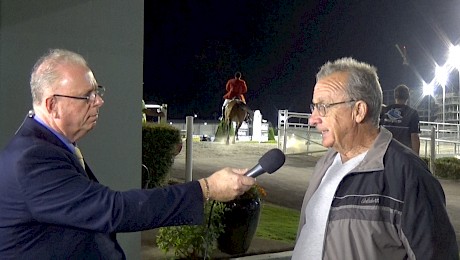 Trainer Ray Green, being interviewed here by Trackside's big fish Craig Thompson, is sending more and more pacers to Australia."But he may not be good enough for that and then we'll have to send him to Australia, like all the others before him, where he can be competitive.
"They don't seem to realise what they're doing with this system.''
Admittedly the shortage of horses in the north is exacerbating the problem, the ATC forced into programming races with very wide rating bands.
But Green says there's no way Tommy Lincoln should have to tackle races like the R64 to R95 event his older stablemate The Bull Pen (R66) did last Friday night.
That race was won by the 55-race veteran Check In, winner of eight races and nearly $120,000.
Under the rules, Tommy Lincoln as a two-year-old has earned five points for each win, but from August he will go up eight points for winning, getting a half points concession for every second win only if the race is worth less than $20,000.
Green would like to see a system based more on earnings, which is widely used in Europe. Even in Australia horses can drift down to easier levels with races programmed on earnings in their last three starts.
Green says he can only hope that Tommy Lincoln continues to improve at three, a distinct possibility given his size and late maturing history.
The American Ideal two-year-old was well behind his juvenile stablemates earlier in the season, rested when Green's top echelon were trained down for the Young Guns series.
Tommy Lincoln has the pedigree to go on with it - his older siblings Lincoln Road and Lincoln's Girl doing a great job now for Lincoln Farms' Queensland trainer Al Barnes.
Shannon's story: Why this ratings system sucks
If harness racing officials still need convincing the handicapping system needs overhauling, Shannon Flay's story should be compulsory reading.
The Auckland woman is one of dozens of new people introduced to the thrills of racehorse ownership by Lincoln Farms' boss John Street with his affordable special partnerships.
For Flay the experience of owning a tiny piece of a horse is much more than watching it race on television.
The chance to see Tommy Lincoln in the flesh draws her to the track, where she not only gets to see and bet on her own pony but can mix with other owners and share the joy of seeing their horses run too.
The excitement is catching. When her sister Brenda saw what fun she was having, she took over her late dad's share in the two-year-old.
And when their beloved Tommy scored a hat-trick last Friday night the sisters and their partners in the horse celebrated all night.
In an environment where racehorse ownership continues to dwindle, it's this intoxication which has to be nurtured.
Not everyone will be lucky enough to enjoy such wins but so long as they can go to the races and know their horse will be competitive, they'll be in.
Flay can think of nothing worse than Tommy Lincoln being sent to Australia to race, as mooted by trainer Ray Green if he rises so fast in the ratings he is no longer competitive here.
It's already happened to her once before when, unable to find suitable races for Northview Hustler, and having to put up with races being cancelled due to insufficient entries, Lincoln Farms sent the horse to Queensland to race.
With a share in Hustler, Flay still watches the horse race but she says the fleeting glimpse on TV is not the same and the excitement of a win, watching from home, ebbs far too quickly when more often than not the vision cuts to the next race before the horse even comes back to scale.
"Hustler has done amazing over there but it's just not the same. Part of the reason we got Tommy was I wanted a reason to still go to the races when Hustler moved to Australia. I barely went to the track between Hustler leaving and Tommy starting to race.
"I really don't want to lose Tommy to Oz. He's still a baby - he's had only four races - and it's just really unfair that he would have to start racing against horses that either are open class or are getting there.''
Flay, like so many other owners hanging on to the industry by a thread, can't understand why any business would invoke rules that alienate its customers and drive them to its competitors?
Our runners this week
Friday night at Auckland
Sunday at Menangle
Make Way.