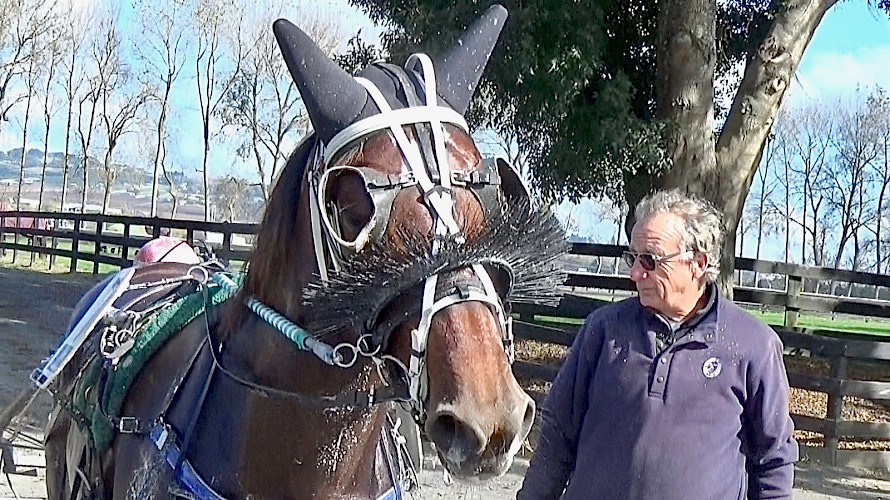 With all that gear on Copy That looks like he's from Mars but could he be a shooting star?
Some radical gear changes helped enigmatic two-year-old Copy That show his true ability at today's Pukekohe workouts.
And trainer Ray Green may now start the unpredictable colt at Auckland on Friday night along with his two-year-old stablemates Sir Tiger and Double Or Nothing who both trialled well.
Copy That has tested trainer Ray Green's patience on numerous occasions, mainly with his habit of breaking on the same corner at Pukekohe during his trials and workouts.
But today newly sporting peek a boo blinkers, two head poles and a mini bit, Copy That was on his best behaviour.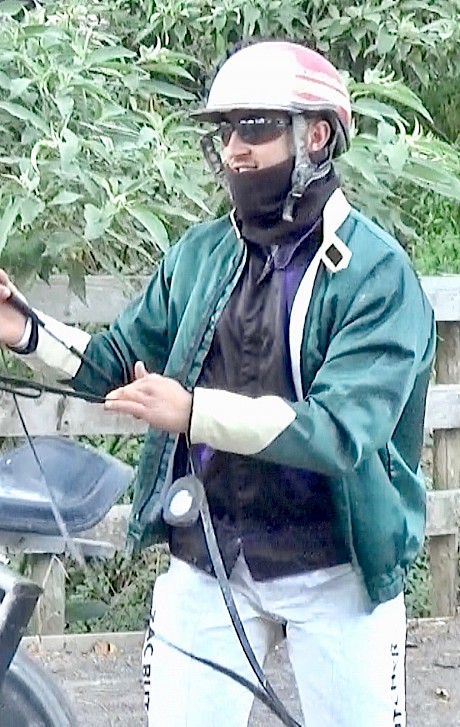 Zac Butcher … Copy That is not far from winning a race.After trailing fifth in his seven-horse heat, driver Zachary Butcher started a move down the back straight on Copy That who showed good speed to gather in the leaders three wide, and maintain a sprint in the run home to grab a half head win over Flying Finn.
And afterwards Butcher had a lot to say about the performance - all of it good for a change.
"He never put a foot wrong and steered right,'' Butcher said.
"I let him take his time and just flop round early. And I wanted him to get round the final turn doing it on his on terms too.
"I clocked him home in 56 and 27.4 and if I'd run him round the bend he'd have run 27.''
Butcher reported his whip also became entangled in Copy That's tail when he gave him a flick early in the run home.
Butcher said Copy That's time for the 2050 metres of 2:36.6 (mile rate 2:02.9) showed he was ready to go.
"If I hadn't known anything about the horse I'd have said he's not far away from winning a race.''
Green didn't think going left-handed today was a factor in the American Ideal colt not galloping, rather pointing to all the gear changes he'd made.
"He's definitely got some speed but he needs manners as well. Today's the first time he's got round at the workouts this time in without breaking.''
Green revealed he and wife Debbie had turned down a solid offer for Copy That five months ago after he won two trials. And another agent called during the week to see if the colt was for sale.
"But I told them he's not ready to be sold as he has a few greenness issues to address. He's got a bit more speed than Sir Tiger and hopefully he turns out to be as tough as him.''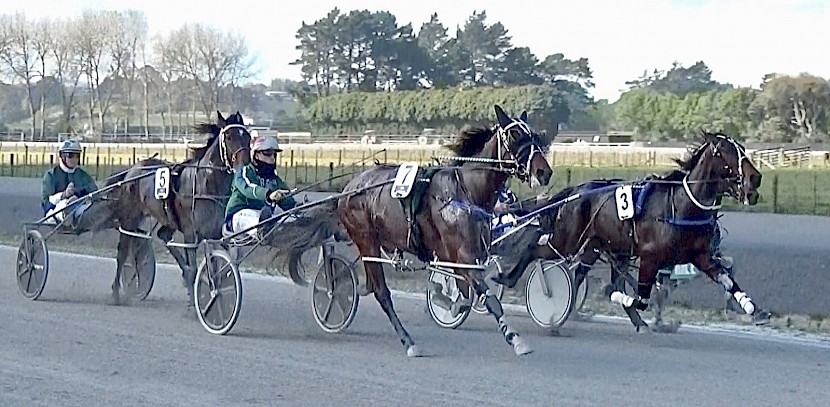 Sir Tiger is hard on the back of Copy That who finishes too well for Flying Finn, inner.One who doesn't have a greenness problem is Sir Tiger who is the consummate professional.
Sir Tiger trailed third in the same heat today for driver Andrew Drake who never pulled the horse off Copy That's back in the run home, finishing fourth, two lengths from the winner.
Sir Tiger will race on Friday night before going south to Christchurch for two feature races at Addington:
The $170,000 Sires' Stakes Final on May 17 and
The $150,000 Two-Year-Old Emerald at the Harness Jewels. Sir Tiger sits 10th in the qualifying order for the Jewels.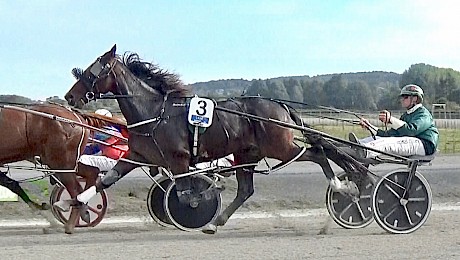 Andre Poutama pulls Double Or Nothing out three wide to start his run from the back.Double Or Nothing, 11th in the order, wasn't asked for too much today, after a searching workout when second last week.
Driver Andre Poutama kept him second last in the running of the non winners' 2050 metre heat and he was last and three wide turning for home.
"He got home really well,'' said Poutama. "And he kept coming.''
Double Or Nothing was fifth at the post, winner Vespa nosing out Sole Ambition in 2:38.6, home in 59.5 and 28.3.
Billy Lincoln bowling along in the lead today for Zachary Butcher.Green was very pleased with the performance of Billy Lincoln who won the learners' heat over 2050 metres.
It was the two-year-old's first workout and first look at the mobile gate and when he proved hesitant at first to move up to the gate, Butcher thought 'Oh oh, here we go'.
"But when the gate went he came out so fast it was like he was tied to it,'' Butcher said.
"He showed a bit of speed and I was rapt with how he went for a big two-year-old.''
Billy Lincoln led throughout and staved off a determined challenge by Mimi E Coco, a Mach Three-Molly Darling filly, to get the decision by a nose.
Green says Billy Lincoln has taken a bit of time to come to it but being by Bettor's Delight would just keep improving.
Billy Lincoln's grand dam Armbro Innocence won 15 races so he has the pedigree to succeed.