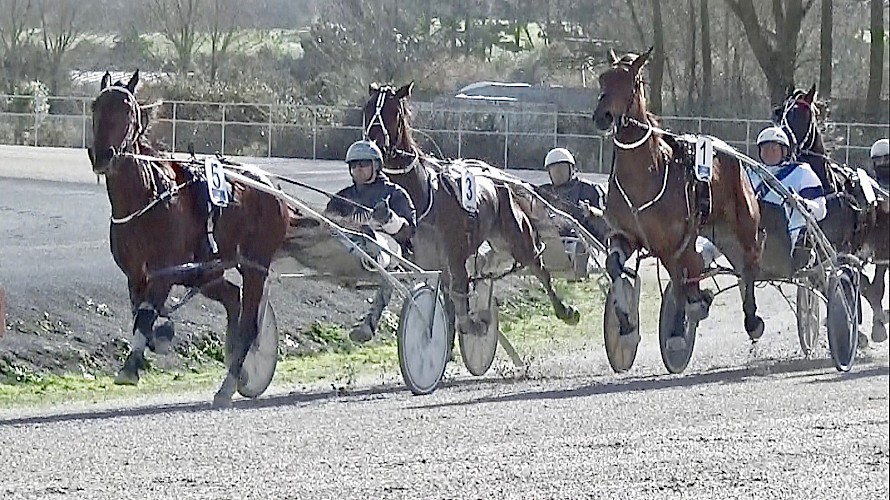 Workout a nightmare for Dreamz but we're saving our pennies for his racetrack return
Check out the results and you'll see The Bull Pen listed winner of his workout at Pukekohe yesterday.
But what it doesn't tell you is that fourth-placed stablemate Bettor My Dreamz was wiped out turning for home, when travelling strongly, leaving driver Zachary Butcher cursing his bad luck.
We'll never know whether the newest recruit to trainer Ray Green's team at Lincoln Farms would have collared his other runner The Bull Pen.
But Bettor My Dreamz was really charging when Butcher pulled him off the markers and almost simultaneously Le Girl galloped in his face, first badly holding him up then checking him into a gallop.
A frustrated Zachary Butcher brings Bettor My Dreamz back after he was flattened by a galloper in his workout on Saturday.Bettor My Dreamz, who won his first workout in the north on June 29, lost a decent stretch of ground and was not chased afterwards by Butcher, finishing five lengths from third-placed Pekeson.
But you can be sure the talented three-year-old had plenty more to show us. Bettor My Dreamz claims the fourth fastest winning time of all three-year-old colts and geldings this season, clocking a mile rate of 1:55.6 when winning over 1980 metres at Addington. Only Ultimate Sniper, Major Trojan and Bettorstartdreaming have gone faster.
Green looks to have him coming up nicely and in his first attempt behind the tapes yesterday he began like a seasoned pro.
The Bull Pen did too, assuming the pacemaking after a couple of hundred metres and holding on strongly to beat Afortunado by half a head.
He paced the 2500 metres, right-handed, in 3:19, a sedate mile rate of 2:08.1, with the speed on over the last 800 metres in 57.4 and 400 in 27.7.
Double Or Nothing back
Sweet Lou two-year-old Double Or Nothing showed he had benefitted from a little break when coming out of the trail to run down Willedu by half a length in his 2050 metre heat.
Green eased up on the rangy gelding, who has placed in five of his eight starts, after he finished second to Copy That on June 7, and is pleased with how he is training again.
Yesterday he ran the 2050 metres in 2:35.3, a mile rate of 2:01.9, covering the last 800 metres in 59.9 and 400 in 29.3.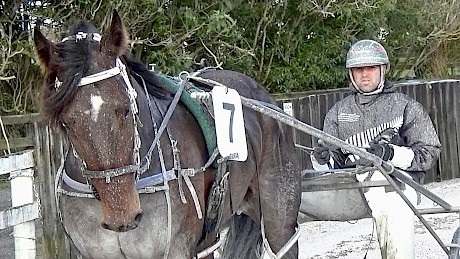 Sir Tiger … ran home well for Andre Poutama in 27.7.Fellow two-year-old Sir Tiger, also back from a break, was given only a quiet run in his heat, taken back to the tail from this wide draw.
He was still there, back on the markers, turning for home but, once clear, sprinted nicely for driver Andre Poutama.
"He got a bit tired late but I clocked him to run home in 27.7," Poutama said.
Winner Mumsies Lad, a grandson of star mare Alta Serena with Brian and Gareth Hughes, clocked 2:36.8 for the trip, a mile rate of 2:03.1, home in 58 and 27.8.
Sir Tiger has not raced since breaking maidens at Cambridge on June 6 but he has been consistently around the money all season and surprisingly, when he was put aside, was eighth on the list of leading stake earning colts and geldings of his age with $25,799.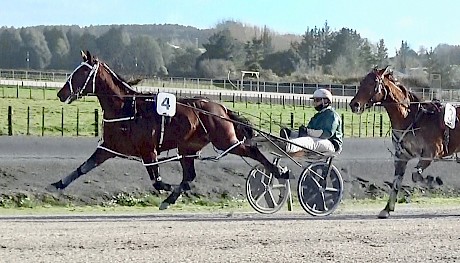 Hampton Banner strides out nicely during his all-the-way win for Zachary Butcher.Green's late season developer Hampton Banner has yet to race but he showed yesterday in only his second workout back that he will make the grade.
Taken to the front after a messy first couple of hundred metres of the learners' heat, the Bettor's Delight gelding paced nicely to clock 2:46.9. His mile rate was just 2:11 but he kicked home in 59.5 and 27.9 to beat Sir Lincoln filly Love Yourself by a head, with four lengths to Shake It.
Hampton Banner was spelled after two unplaced workouts last December, Green saying he needed time to get over his growing pains.
"His bones were just soft so we let him mature. He seems to be holding up well this time in and looks like he'll grow into a nice sized horse."
Out of the one-win mare Surf And Sand, Hampton Banner was a $60,000 yearling buy and traces back to Tabella Beth who left very fast pacer Spirit Of Zeuss, winner of $243,000. He won six of his nine races at three including the Sires' Stakes Final and Yearling Sales Final.
Turned out
Green has turned out for a spell his two Friday night runners, two-year-olds Copy That and Man Of Action.
Copy That finished a brave third behind Delightful Major on Friday after one earplug popped out, causing him to over-race, and doing plenty of work to loop the field.
He will be aimed at the Sires' Stakes series later in the year.
Our runners this week
Thursday night at Penrith
Make Way.
Our runners this week:
How our trainer rates them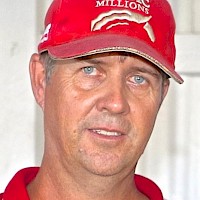 Al's comments
Tuesday at Albion Park
Race 3: Double Or Nothing
4.53pm NZ time
"He got badly held up last start but but he didn't ping like we thought he would. Hayden might want to lead on Tuesday and I'd say he'll be either there or in the trail and from there he should go close, and finish in the top two."