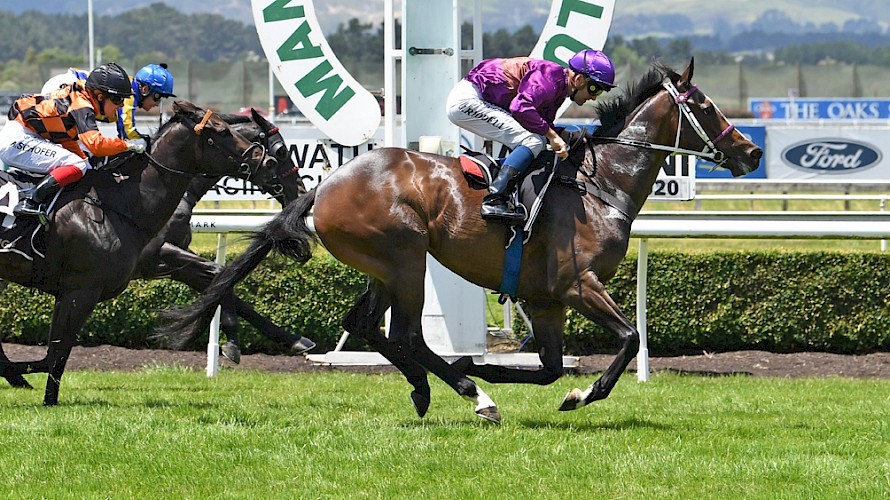 Wow! Take a bow Lisa - that's some comeback by forgotten galloper Lincoln Falls
After 20 months away from the racetrack even some of Lincoln Falls' owners had almost forgotten about him.
But when he finished like a freight train to win fresh-up at Awapuni on Saturday, it rekindled all the hopes they once held for the horse before his tendon injury in 2019.
In a great feather to trainer Lisa Latta's cap, the impressive looking five-year-old came from second last, showing a turn of foot that really impressed rider Jonathan Riddell to win, going away, by one and a quarter lengths over Go James and Kapinos.
The performance was a great filip for Lincoln Farms owners John and Lynne Street and Taupo's Chris Grace who patiently waited 12 months for the horse's leg to mend and underwent rehab with Bryce Newman before rejoining Latta's stable.
It wasn't what they had been hoping for from the exciting galloper who had agents offering $1 million even before his debut win in September, 2018.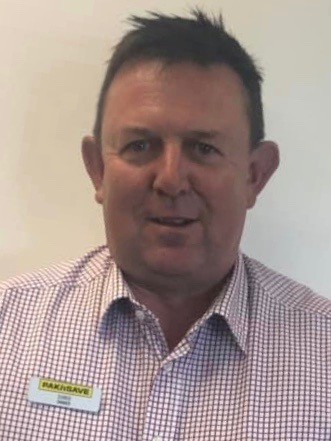 Chris Grace … was flat out at his Taupo Pak 'N Save supermarket.Grace shared his 25% with stepson Jamie Ireton and a bunch of his mates, mostly young plumbers based out of Hamilton, to turn their luck around.
"They'd leased a couple of horses off me, and hadn't had much luck. They're mad keen followers and great customers of the TAB.
"There are seven of us in the syndicate. They like the social side of it and the horse gave them a reason to go to the races. They took their wives and partners to Auckland for the derby and down to Wellington for a race.
"But the horse had been off the scene for so long the guys have virtually forgotten about him. They were sitting in the Eastside Tavern in Hamilton watching him yesterday and only one had a bet on him - for a place."
Grace was also too busy to go to the races himself, the pre Christmas rush at his Taupo Pak 'N Save supermarket demanding his presence.
Grace, who has known John Street for many years through their supermarket operations, enjoyed huge success with the very fast filly Anabandana, who won five straight Group races in 2011, including the Matamata Breeders' Stakes, Auckland and Manawatu Sires' double and Gold Trail Stakes.
"The biggest regret my wife Jill and I had was not having people to share that experience with so hopefully we can have some fun with everyone over summer.
"He's got a lot of catching up to do but yesterday was an impressive start."
Latta, while delighted with Lincoln Falls' slightly unexpected win, says she's not getting her hopes up too high.
"With the injury he had it's always one day at a time. The first thing I do every morning is to check his leg.
"You don't know how many runs you've got him for and it's hard to map out a programme for him because of his low rating."
With Lincoln Falls rated on 69 before yesterday's win, and likely to incur four or five penalty points, Latta hopes he might still qualify for rating 74 events.
A $50,000 rating 74 1400 metre race at Ellerslie on New Year's day was one possible next start for the horse.
"He's not nominated for any big races - they were all going to come up too soon for him - and he'd be flat anyway making an open handicap.
Limited campaign
"He won't have a big campaign this time so we make sure he stands up. I definitely don't want to give him too many runs on good ground.
"I'd like to set him for March-April when the fire is out of the ground and then we can look at some big races."
Latta said while she thought Lincoln Falls might need a couple of runs before winning because he was carrying a bit of condition, the horse had always shown real ability.
"Jonathan said the good speed up front helped because he settled well, and he showed a great turn of foot.
"He's a very impressive looking horse now but I do train him a bit differently.
"He's in the pool a lot. He swims the day after he gallops and he works on his own so he doesn't do too much."
Lincoln Falls, who was gelded after over-racing in the New Zealand Derby, now has a record of three wins and a second from nine starts for $64,425 in stakes.
He missed all of last season, scratched on the eve of his first four-year-old start at Hastings in August, 2019 when Latta found very slight filling in his near foreleg and a small hole was discovered in his tendon.
Our runners this week:
How our trainer rates them
Saturday at Trentham
Race 2: Lincoln Hills
12.45pm
"He has freshened up really nicely and hopefully we get the fire out of the ground which he really likes. His work has been really good and, while there are a few nice horses against him, we know he performs fresh-up. Sam O'Malley will claim 3kg down to 58kg."
Race 6: Father Lenihan
3.05pm
"This is a big drop back in class for him and Temyia Taiaroa's 3kg claim will bring him down to 58.5kg which I think will be a competitive weight for him. The key to him is having a nice draw and being able to sit just in behind the speed. His work has been very good and hopefully with rain about, the track comes up dead."
Race 7: Platinum Spirit
3.40pm
"Ryan (Elliot) didn't have any luck on him at all last week - he elected to go in and the gaps all closed up. He's thrived since and all the rain has really sparked him up. He looks fantastic and I couldn't be happier with him. Jonathan Riddell will ride and on his run last week you would expect him to be very hard to beat."