Zac throws down the gauntlet: Line Up's a dude and I'm not scared of the All Stars
"He's a pretty serious horse and off that run I wouldn't be too scared of Mark Purdon's one.''
Top driver Zachary Butcher well and truly threw down the gauntlet to All Stars' No. 1 colt Smooth Deal with his huge rap on tonight's brilliant debut winner Line Up.
The brother to former champion age group filly Partyon could not have been more impressive in the third Young Guns heat for colts and geldings at Alexandra Park, unleashing a burst of speed that saw him run away, untouched, from his four rivals by two and a quarter lengths.
Incredibly, the Bettor's Delight colt made it look nothing more than a Sunday stroll in carving out his last 800 metres in 56.9 and 400 in 27.3, to win the 1700 metre race in a 1:58.5 mile rate.
"It's been a while since I've been on a horse who has won so effortlessly,'' said Butcher. "It was an armchair drive and he made me look good.
"I just like how easy it was for him. He was cruising round the bend and I didn't ask him to go until the 200 and in three strides he went past them. And he pricked his ears ten metres off the line.''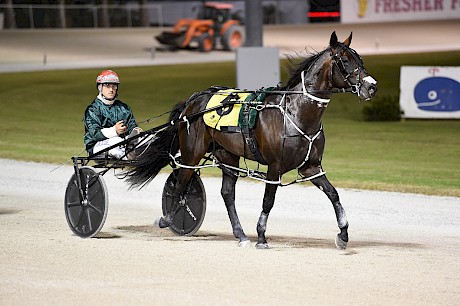 Zachary Butcher brings Line Up back to scale. PHOTO: Joel Gillan/Race Images.Butcher said right from when he set foot onto the track Line Up had things sorted, even though he'd never seen Alexandra Park.
"He's a professional, such a dude. In the warm-up he was so relaxed I was slapping him up and as soon as the mobile went he came straight back to me.''
Butcher was content to sit at the back of the field early but, in the knowledge the colt can still throw in the odd rough stride, he figured rather than challenging three wide late, he'd rather get round the field at the bell to sit parked.
"He wanted to race them when I moved but again he relaxed beautifully when I got there and sat parked. He just dropped the bit and was doing his thing.''
Butcher said as soon as he pulled the plugs at the top of the stretch Line Up was off. And it took only a flick of the reins to get him to really step it out.
"It was a pretty good effort for a two-year-old to effortlessly run away like that when they're going a 27.3 quarter.''
Trainer Ray Green said it made you wonder what Line Up was capable of with more racing under his belt if he could be so dominant in his first race.
Snotty nose
And he revealed the colt had been under a slight cloud during the week with a snotty nose, making his run even more remarkable.
Green wasn't at all surprised by the rare brand of speed Line Up showed, the colt having improved in leaps and bounds in the last few weeks, showing high speed in his trials, prompting both Green and Butcher to suspect he could be the best of their babies.
That saw Line Up change hands for big money two weeks ago and he now races in the colours of Australian Emilio Rosati, who will also have Perfect Stride in the $100,000 Young Guns Final at Auckland on March 8.
Butcher was cheekily non-committal when asked which of the pair he'd prefer to drive.
Tonight's runner-up Sir Tiger will also go on to the Final but even though he was given a perfect trip in the trail by Andre Poutama, he lacked the high speed of his stablemate to take advantage of the passing lane.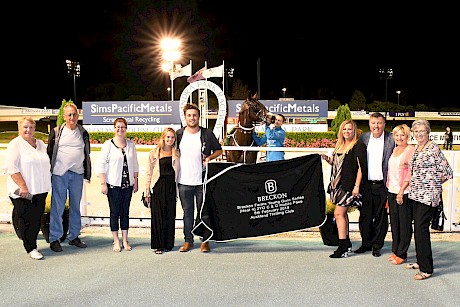 Young Guns series sponsors Karen and Ken Breckon, to the right of the dress rug, share in the celebrations with Lincoln Farms' trainer Ray Green, second from left, and other stable supporters."He's a lovely horse,'' said Green. "He lacks big speed but he's very tough and he'll end up a tidy horse.''
Pacemaker Double Or Nothing again lacked any final zip in the run home and after finishing fourth, 3.2 lengths from the winner, driver David Butcher recommended Green tip him out for a break.
A long time king of the Lincoln Farms babies, he has dropped off the pace since being gelded and lightening up in condition.
"I think we'll give him a month off,'' Green said.
The fourth of the Lincoln Farms runners, Copy That, who was parked early then enjoyed the one-one trail, "couldn't go with them when they sprinted,'' said Green, finishing another 1.2 lengths away in fifth.
"I think I've taken his hopples up too much.''