Zachary turns on a masterclass, saving his best for Lincoln Farms' popular boy Tommy
Zachary Butcher turned on a masterclass of front-running drives at Auckland on Thursday night but Tommy Lincoln's win proved easily the most popular.
Butcher reined home four winners on the night, for four different trainers, with Tommy Lincoln, Daisy Hill and Mr Fantastic all scoring from the front and Marathon Man from the one-one.
But he reserved the biggest smile for the happy throng of owners which greeted Tommy Lincoln after the seventh race, including his boss at Lincoln Farms, John Street.
Pre-race discussions cast doubt on whether Butcher could get across from the outside of the gate on Tommy Lincoln, who races best when bowling along in front.
But Butcher made it look easy, getting the big horse out like a rocket to head Silk inside the first 200 metres.
From there it was a procession and Tommy Lincoln never looked like being headed as he raced away to a two and three-quarter length win in the smart time of 2:41.4 for the 2200 metres.
"He led easily, relaxed beautifully in front and then peeled off a 55.3 half," Butcher said as the owners smiled for the camera.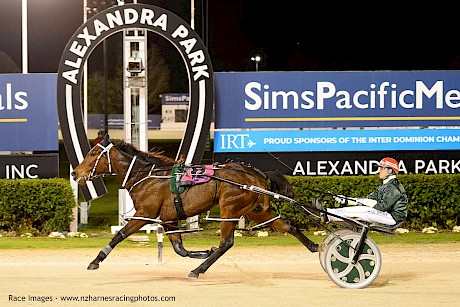 Tommy Lincoln goes all the way for Zachary Butcher. PHOTO: Meghan Liefting/Race Images.Raced by Shannon and Brenda Flay, Ian, Kathy and Daniel Parkinson, Debbie Sparks, Ray Menzies, Dennis Ebert, Ian Middleton and John and Lynne Street, the American Ideal four-year-old has now won five of his 15 starts and topped $50,000 in earnings.
That's a healthy return on the $10,000 Street paid for the horse as a weanling from Woodlands Stud, who ironically, bought his dam Tania Tandias from Lincoln Farms the previous season.
The last two horses Lincoln Farms bred from the Falcon Seelster mare were the well performed Lincoln's Road (14 wins) and Lincoln's Girl (15 wins, including four in the United States).
Trainer Ray Green said Tommy Lincoln's emergence didn't surprise him as he's yet another tough racehorse sired by American Ideal, now standing in Victoria's Goulburn Valley.
"He's got gate speed and he keeps going," Green said.
Green was taken even more by the terrific late burst of stablemate American Dealer to nab third right on the line.
Buried four deep on the markers, he looked to have no chance of filling a placing and was even a longshot to get there well into the home straight.
But he really wound up when angled out by David Butcher to hit the line like a freight train.
"He's a great wee horse and we'll see a lot more from him."
Our runners this week:
How our trainer rates them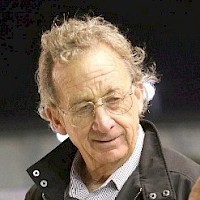 Ray's comments
Friday night at Auckland
Race 3: Revitalise
6.52pm
"Maurice liked his run last week, he has a better draw this time (five) and I'd like to think there's a lot of improvement in him. He should go well and hopefully he'll get a cheque."
Race 5: Captain Nemo
7.53pm
"It will be very tough for him from the outside of the arm. He didn't pace the best last week, Andre (Poutama) had to hold on to him the whole way. But I'll tweak his gear a bit - his hopples might have been a tad long - and hopefully he'll get round OK."
Race 5: American Dealer
7.53pm
"It's difficult to make a plan from four on the second row - you're relying on pure, unadulterated luck - and that's not ideal. I can't imagine anything beating Krug from the one draw - he'll lead out and I doubt he'll hand up - but hopefully we can pick up some of the minor money."
Race 6: Tommy Lincoln
8.24pm
"He's not really a 2700 metre horse so 2200 this week will suit him a lot better. Seven is not the ideal draw on the mobile but if David (Butcher) gets a good trip I'd say he'll be the one to beat."
Race 7: Copy That
8.55pm
"He's absolutely donkey licked everything so far and they're all the same horses again except for Mark Purdon's Another Masterpiece. Now that he's on the front I can't see why he wouldn't flog them again."
Race 9: Apieceoflou
9.52pm
"He was used a bit early last week, and parked for a while, and hung on well for third. I'd like to see him lead and then I think he'd be a serious chance. This is the best draw he's had."
Race 9: Bondi Shake
9.52pm
"He's been training not bad but he's out wide again and will need some luck."