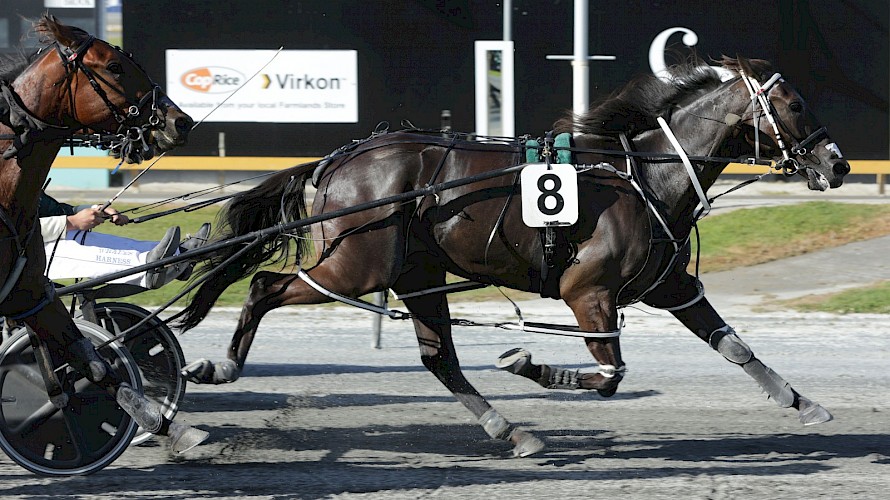 Zealand Star notches another one for Green and Butterworth
First Steam Punk, now Zealand Star, and soon Just Wing It - that's the impressive score card for Pukekohe trainer Ray Green with horses owned by Merv Butterworth.
When Zealand Star scored a commanding win at Cambridge last Friday it was the second time Lincoln Farms' trainer has scored for the big Australian owner in double quick time.
Steam Punk won at Auckland in his second attempt for Green before Butterworth decided his future lay in Australia.
Replacement Zealand Star took five starts to win after two recent indiscretions at the start - but he still saluted within a month of starting racing from Lincoln Farms' Pukekohe base.
And the ease of his win suggests he could go back to back when he returns to Cambridge on Friday.
Driver Zachary Butcher drove a perfect race on the sit-sprinting five-year-old, keeping him back until launching at the 600 metres and easily rounding up the leader Patanjali to score this first win in nearly 11 months.
Zealand Star showed 2700 metres was well within his scope as he clocked a respectable 3:25.5, a mile rate of 2:02.5, doing his best work late.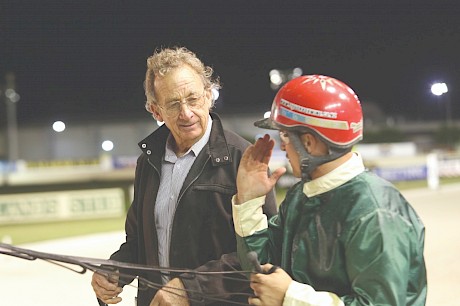 Dynamic duo … trainer Ray Green and driver Zachary Butcher.Green's move to fit an undercheck obviously did the trick at the start, preventing Zealand Star from lifting his head and becoming unbalanced.
But Butcher's decision to keep him off the gate also helped, as he stayed relaxed, three lengths behind them on dispatch.
Butterworth wasn't at Cambridge to see the win - he was 5300km away in Perth to see his former Kiwi SunofLindenny run favourite in the $50,000 Trotters' Cup at Gloucester Park.
Things didn't go to plan there when the horse galloped away, was then held up by a breaker, and forced to sit parked for the last half of the race, tiring late to fifth.
Now a rating 70 horse, Zealand Star will have to step up a grade this week but Green says that won't stop him as he has the motor to win more races.
It's too soon for Green to tell what's under the hood of newcomer Just Wing It who has only been jogging since Butterworth sent him to Pukekohe last month.
But he likes what he's seen so far from the bold four-year-old son of Art Major.
Just Wing It started his career with Michael Purdon and in five starts he managed two thirds, including a 2:42.7 third behind Power Dreaming at Auckland after sitting parked for the last mile and being nabbed only 50 metres out.
He hasn't raced since October 12, ironically in the Lincoln Farms Pace, when he was checked into a break 400 metres out and injured, found to have cut a pastern.
His dam Starling has left 18-race winner (Our) Blackbird and the up-and-coming The Night Hawk (3 wins).