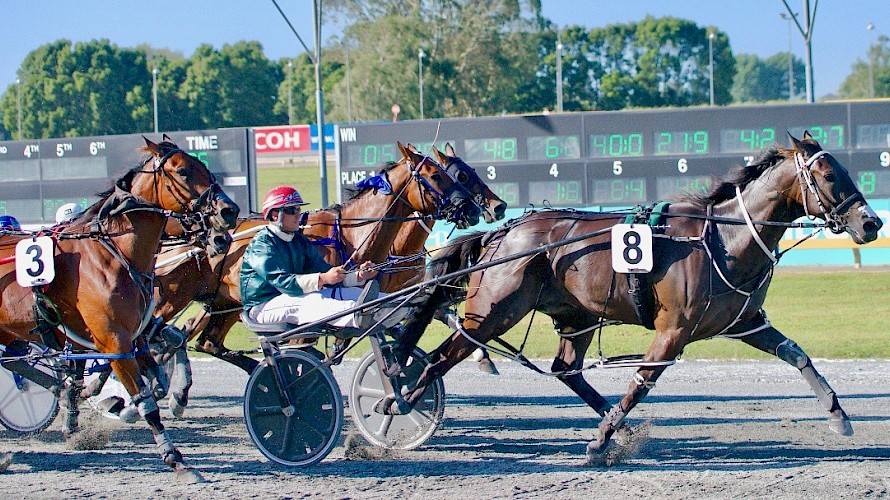 Zealand Star will have too much speed for his Cambridge rivals on Thursday night
On the back of a terrific Saturday workout, and facing inferior opposition, Zealand Star looks a cracking winning chance at Cambridge on Thursday night.
Zealand Star lines up in a rating 56 to 70 field in the eighth race as the sole rating 70 horse and meets horses who have been hacking their way round the January grass circuit, mostly without effect.
Lincoln Farms' five-year-old, on the other hand, brings strong Auckland form to the table, his latest effort seeing him pace the second fastest sectionals on the night.
Most punters would have missed seeing it but on January 18, Zealand Star came from last with a sizzling closing lap, sprinting three wide in 54.5 and 26.4, only Auckland Cup starter Raptor's Flight returning a 400 split one tenth of a second faster in running sixth.
Zealand Star's last mile was the second fastest of the meeting, 1:57.2, and saw him finish fifth, closing to 1.5 lengths of runner-up Aha Reaction as smart winner Bettorstartdreaming clocked 2:40.8 for the 2200 metres.
None of Zealand Star's rivals at Cambridge have the ability to match those times.
When Afortunado scored at Cambridge three starts back he clocked a moderate 2:44.8 and last start winners Bubble Gum and Reube Star beat poor opposition on the grass at Rotorua and Waipa.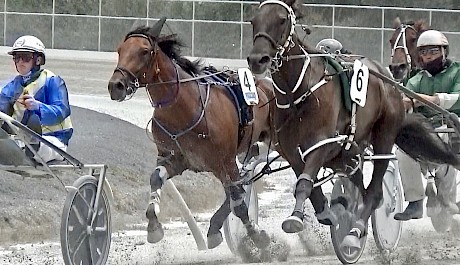 Zealand Star (Zachary Butcher) moves round to set out after leader Let's Elope in his Pukekohe workout last Saturday.Compare that with the horse who beat Zealand Star over 2050 metres at last Saturday's Pukekohe workouts, rating 96 pacer Let's Elope.
And when you consider Zealand Star pulled out to sit parked over the last 700 metres, and ran the 26-race winner to a neck, with closing sectionals of 56.8 and 26.1, it augurs well for Thursday night.
"He should smoke them,'' says trainer Ray Green.
"He's a beautiful big horse with very high speed and if we can get him to carry it a tad further he could do something special.''
Green says Zealand Star has improved a lot since joining his Pukekohe stable and is now exciting owner Merv Butterworth, doing things he never expected.
"He should win on Thursday, and win easily, and that will be another confidence booster for him.''
Zachary Butcher will still have to drive a good race on Zealand Star, however, as he's a sit-sprinter, not a horse who can be driven aggressively in the early or middle stages.
But with only seven rivals, so long as he is not too far off them turning for home, his superior speed should see him run over the top of them. He did exactly that three starts back and was beaten less than a length when third to Bettorstartdreaming and My Generation two starts ago.
Butcher's dad David won't have to be quite so conservative on Phil Bromac in the second race, the three-year-old already having shown he can do it tough and still run in the money.
Last time out, on January 4, Phil Bromac was forced to race three wide for the last 1300 metres and still was beaten only a length and a neck.
The Washington VC gelding, who has placed at Cambridge in each of his three career starts, will start from three on the second line when scratchings come out.
"He's at the mercy of the ones in front of him so he's only a runner's chance really,'' says Green. "But if he can get a run through them, and get a bit of luck, he could win.''
Our runners this week:
How our trainers rate them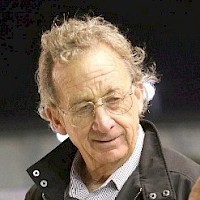 Ray's comments
Friday night at Auckland
Race 2: Bettor My Dreamz
"I think he's a chance from the draw. He's had only a handful of starts but I don't think they're much better than him, a bit more experienced perhaps. But he's an improver and David said he felt improved at the workouts last Saturday."
Race 2: Just Wing It
"Andre's keen on him - he could have driven the other horse - so we'll see what sort of a judge he is. I've been very happy with him in the last few weeks - he's pacing a lot better."
Race 5: Sir Tiger
"He's done a great job so far but he's jumping up in class and he'll be up against it from now on, especially from that second row draw. He just lacks a yard of speed."
Race 7: The Empress
"She'll go well again and just needs some luck from the inside second row. There's not a lot between her and Bettor My Dreamz. She's a lovely mare."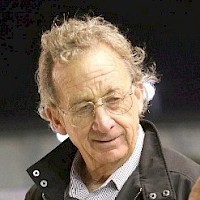 Ray's comments
Saturday night at Melton
Race 8: Perfect Stride
11pm NZ time
"I'm confident he'll go well. I couldn't say I'm overly confident he'll beat them but all things being fair and equal I think he'll be right there. He's certainly ready to go. His work this morning was super and he's really feeling good."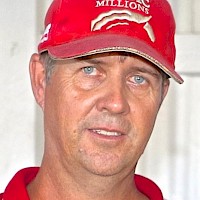 Al's comments
Saturday night at Albion Park
Race 6: Northview Hustler
9.40pm NZ time
"It's only an eight horse field and he should get a great trip behind the leader. It was only (lack of) fitness that got him last week but he should be winning this week."